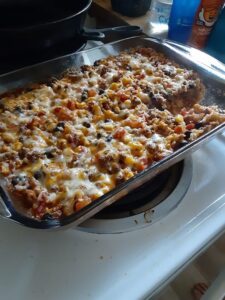 Mexican Beef and Rice Casserole

1lb hamburger meat (I used 93%)- $5.15 (bought in bulk)
1 onion, chopped- about $1
Garlic to taste (recipe called for 4 cloves, but I just dashed some into skillet.)
Cook in skillet until done. Dump in greased 9×13 pan
1 can corn, rinsed and drained- $0.54
1 can black beans, rinsed and drained- $0.74
14 oz salsa (I used diced tomatoes $0.74 a can, plus a little salsa I had in fridge)
1 cup minute rice- less than $1

Mix all into pan with meat and onion.
1 1/2 cup chicken broth-less than $1
1 cup cheese- about $1.35
Mix into pan with all other ingredients. Bake, covered with foil, at 375 for 35 minutes, or until rice is tender.
Top with another 1 cup of cheese- $1.35
This fed 2 adults and 2 children (they had burritos). We're completely stuffed, and have leftovers.
My children are really picky, but loved this meal.
Can I use ground turkey or chicken instead of beef? A2: Yes, you can substitute ground turkey or chicken for beef if you prefer a leaner option.
Q3: Is this casserole spicy? A3: The level of spiciness depends on the recipe. Some versions use mild seasonings, while others incorporate chili powder, cumin, or jalapeños for a spicy kick. You can adjust the spice level according to your preference.
Q4: Can I make this casserole ahead of time? A4: Yes, you can prepare the casserole ahead of time and refrigerate it before baking. This can be convenient for busy days; simply bake it when you're ready to serve.
Q5: How long does it take to bake the casserole? A5: Baking times can vary, but it typically takes around 25-30 minutes in a preheated oven at 350°F (175°C) until the casserole is heated through and the cheese is melted and bubbly.
Q6: Can I freeze Mexican Beef and Rice Casserole? A6: Yes, you can freeze this casserole. It's best to assemble the casserole in a freezer-safe dish, cover tightly with plastic wrap and aluminum foil, and freeze. To reheat, thaw it in the refrigerator overnight and bake until heated through.
Q7: What can I serve with Mexican Beef and Rice Casserole? A7: Common accompaniments include sour cream, salsa, guacamole, chopped cilantro, and a side of Mexican-style salad or a vegetable medley.
Q8: Can I make this casserole without cheese? A8: Yes, you can omit the cheese if you prefer a dairy-free version. The casserole will still be flavorful due to the spices and other ingredients.
Q9: Can I add vegetables to the casserole? A9: Absolutely, you can add vegetables like bell peppers, zucchini, or spinach to enhance the nutritional content and flavor of the casserole.