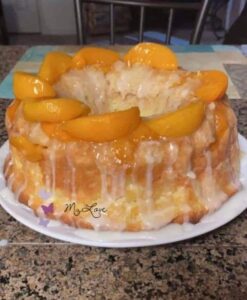 Today, I'm thrilled to share a recipe that's not just a dessert but a slice of pure joy – our Peach Cobbler Pound Cake. Bursting with the sweetness of ripe peaches and the richness of a moist pound cake, this delightful creation is bound to become a cherished addition to your dessert repertoire. Let's dive into the details and discover the art of crafting a Peach Cobbler Pound Cake that will have your family and friends asking for seconds.
Ingredients:
For the Cake:
All-Purpose Flour (3 cups): A versatile foundation for the cake, ensuring a tender crumb.
Granulated Sugar (3 cups): Provides sweetness and contributes to the cake's texture.
Large Eggs (6): The backbone of the cake, adding richness and structure.
Unsalted Butter (1 1/2 cups): Enhances the cake's flavor without overpowering.
Cream Cheese (8 oz, softened): Adds a velvety texture and subtle tang.
Vanilla Extract (2 tsp): Infuses the cake with a warm, aromatic flavor.
Salt (1/4 tsp): Elevates and balances the sweetness.
Diced Peaches (1 cup, fresh or canned): A juicy burst of peach goodness, bringing a delightful twist.
For the Topping:
Peaches (2, sliced): Fresh or canned, these add a visually appealing layer.
Brown Sugar (1/2 cup): Creates a caramelized sweetness.
Melted Butter (1/4 cup): Lends richness to the topping.
For the Glaze:
Confectioners Sugar (1 cup): Forms a luscious, sweet drizzle.
Vanilla Extract (1 tsp): Enhances the glaze with a subtle aroma.
Milk (2-3 Tbsp, adjust to thickness preference): Achieves the desired glaze consistency.
Brown Sugar (2 Tbsp, for sprinkling): Adds a final touch of sweetness.
Instructions
Preheat the Oven: Set to 300 degrees F and generously grease a large bundt pan with cooking spray for easy release.
Prepare the Cake Batter:

Cream together butter, sugar, and softened cream cheese until combined.
Add eggs one at a time, then mix in vanilla extract.
Gradually add flour, mixing on low speed. Ensure a fully combined and smooth batter.
Gently fold in the diced peaches, setting the batter aside.

Prepare the Topping:

Melt butter in a small bowl and mix with brown sugar.
Arrange sliced peaches in the greased bundt pan and cover with the brown sugar and melted butter mixture.

Assemble and Bake:

Pour the cake batter over the peaches, tapping the pan to eliminate air bubbles.
Bake at 300 degrees F for 60-70 minutes or until a toothpick comes out clean.
Allow the cake to cool on a wire rack for 20-30 minutes.

Prepare the Glaze:

Whisk together confectioner's sugar, vanilla extract, and milk until reaching your preferred glaze consistency.

Final Touch:

Once the cake has cooled completely, invert it onto your favorite cake pan and drizzle with the glaze.
Helpful Tips:
For extra freshness, pat the diced peaches dry before folding them into the batter.
Tap the bundt pan gently to ensure an even distribution of the batter and eliminate air bubbles.
Experiment with different peach varieties to tailor the flavor to your liking.
Enjoy a slice of this Peach Cobbler Pound Cake with a dollop of whipped cream for an extra indulgent treat.
Prepare to savor the harmonious blend of flavors in every bite of this Peach Cobbler Pound Cake, a dessert crafted with elegance and nostalgia. Enjoy the sweet moments!