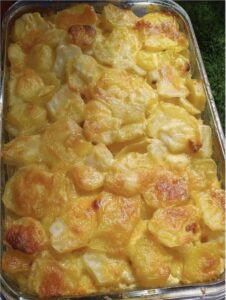 Dear wonderful readers, today's culinary delight brings us to the heartwarming and timeless dish of Scalloped Potatoes. This comforting recipe is a celebration of simplicity and elegance. With layers of thinly sliced potatoes bathed in a luscious cream sauce, this dish is a symphony of flavors and textures that will undoubtedly become a cherished addition to your repertoire. Let's dive into the details and create a culinary masterpiece together!
Ingredients:
For the Creamy Sauce:
Butter (1/4 cup): Adds richness and depth to the sauce.
Onion (1 large, diced): Infuses a subtle, savory flavor.
Garlic (2 cloves, minced): Elevates the overall taste with its aromatic notes.
Flour (1/4 cup): Acts as a thickening agent for the creamy sauce.
Milk (2 cups): Provides a velvety base for the sauce.
Chicken Broth (1 cup): Adds savory undertones and depth.
Salt (1/2 teaspoon): Enhances the overall seasoning.
Pepper (1/4 teaspoon): Adds a gentle kick to the sauce.
For the Potato Layers:
White Potatoes (3 pounds, sliced about 1/8″ thick): The star of the show, creating layers of comforting goodness.
Instructions:
Preheat and Prepare:

Preheat your oven to 350˚F.
Grease a 9″x13″ baking dish for that golden finish.

Prepare the Creamy Sauce:

In a saucepan over medium-low heat, melt butter and sauté diced onion and minced garlic until softened (about 3 minutes).
Add flour and cook for an additional 1-2 minutes.
Reduce heat to low and gradually combine milk and chicken broth, whisking to form a smooth texture.
Bring the mixture to a boil over medium heat, whisking continuously. Stir in salt and pepper, letting it boil for 1 minute.

Assemble the Layers:

In the greased baking dish, create the first layer with 1/3 of the sliced potatoes. Season with salt and pepper.
Pour 1/3 of the creamy sauce over the potatoes.
Repeat the layering process, finishing with a top layer of creamy sauce.

Bake to Perfection:

Cover and bake for 45 minutes to allow the flavors to meld.
Uncover and bake for an additional 35-45 minutes until golden brown, and the potatoes are tender.
For that perfect golden top, broil for 3-4 minutes.

Rest and Serve:

Allow the Scalloped Potatoes to rest for 15 minutes before serving, ensuring the flavors settle and meld together beautifully.
Helpful Tips:
Potato Thickness: Aim for uniform potato slices for even cooking.
Layering Technique: Ensure an even distribution of potatoes and sauce in each layer for consistent flavor.
Golden Finish: Broiling at the end adds a delightful golden hue to the dish.
Resting Time: Allowing the dish to rest before serving enhances the creaminess and flavors.
Indulge in the sumptuous world of Scalloped Potatoes, where layers of creamy perfection meet the humble potato to create a dish that's as comforting as it is elegant. Enjoy every delightful bite!