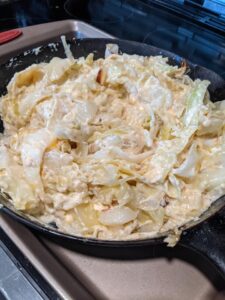 Cabbage Alfredo 

1 big head of cabbage shredded (mine will be smaller next time)
1 pint heavy cream
1 Stick of butter
2 heaping spoons of minced garlic
1 block of cream cheese
Salt and Pepper to taste
Bake 400° until cabbage is fully cooked
Add 1 cup of mozzarella cheese after done and enjoy! (I had Colby jack so I used that instead) haha but you can add additional veggies like mushrooms or peppers
Another version of the recipe:
Creamy Cabbage Alfredo with Colby Jack Cheese
Ingredients:
1 small to medium-sized head of cabbage, shredded
1 pint (2 cups) heavy cream
1 stick (1/2 cup) unsalted butter
2 heaping tablespoons minced garlic
1 block (8 oz) cream cheese, softened
Salt and pepper, to taste
1 cup Colby Jack cheese, shredded (or mozzarella, if preferred)
Optional: additional veggies like mushrooms, peppers, or any of your favorites
Instructions:
Preheat the Oven: Preheat your oven to 400°F (200°C).
Prepare the Cabbage: Shred the cabbage into thin strips. If you prefer a finer texture, you can chop it further.
Prepare the Alfredo Sauce: In a large saucepan over medium heat, melt the butter. Add the minced garlic and sauté until fragrant, about 1-2 minutes. Lower the heat and add the cream cheese, stirring continuously until it's fully melted and well incorporated into the butter and garlic mixture.
Add Heavy Cream: Pour in the heavy cream slowly, stirring constantly to avoid lumps. Keep stirring until the sauce thickens and becomes creamy. Season with salt and pepper to taste. If you want a thinner sauce, you can add a bit more cream.
Incorporate the Cabbage and Optional Veggies: Add the shredded cabbage to the creamy Alfredo sauce. If you're including additional veggies like mushrooms or peppers, add them now as well. Mix well, ensuring the cabbage is coated evenly with the sauce.
Bake the Cabbage Mixture: Transfer the creamy cabbage mixture to a baking dish. Bake in the preheated oven for about 25-30 minutes or until the cabbage is tender and cooked through. Keep an eye on it to prevent excessive browning.
Add Cheese Topping: Once the cabbage is fully cooked, sprinkle the shredded Colby Jack cheese (or your cheese of choice) evenly over the top. Return the dish to the oven and bake for an additional 5-7 minutes or until the cheese is melted and bubbly.
Serve and Enjoy: Remove from the oven and let it cool for a minute or two before serving. Enjoy your creamy and cheesy cabbage Alfredo as a delicious side dish or a comforting main course!