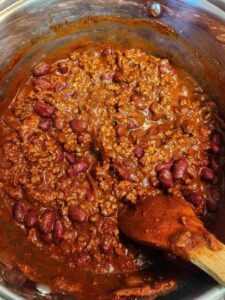 Warm up your days with our Wendy's Chili – Don't Lose This recipe. This comforting dish brings together a medley of flavors, from hearty ground beef to a perfect blend of spices. An easy-to-follow recipe that promises a bowlful of savory joy—ideal for cozy evenings or entertaining guests. Let's dive into the simplicity and warmth of this classic chili that's sure to become a cherished favorite.
Ingredients:
Ground Beef (1 pound): Opt for lean ground beef for a healthier option.
Onion (1 medium, chopped): Adds flavor and texture to the chili.
Green Bell Pepper (1): Chopped for a subtle crunch and added color.
Garlic (2 cloves, minced): Enhances the overall flavor profile.
Diced Tomatoes (1 can, 14.5 ounces): Adds a rich, tomato base to the chili.
Kidney Beans (1 can, 14.5 ounces, rinsed and drained): Provides protein and texture.
Tomato Paste (1 can, 6 ounces): Thickens the chili and intensifies tomato flavor.
Water (1 cup): Balances the thickness of the chili.
Chili Powder (2 tablespoons): Adds depth and heat to the dish.
Ground Cumin (1 teaspoon): Offers a warm, earthy flavor.
Salt (1 teaspoon): Enhances overall seasoning.
Black Pepper (1/4 teaspoon): Adds a subtle kick.
Paprika (1/4 teaspoon): Contributes a smoky flavor and rich color.
Ground Cinnamon (1/4 teaspoon): Provides a hint of warmth and complexity.
Instructions:
Cook Ground Beef: In a large pot or Dutch oven over medium heat, brown the ground beef, breaking it up with occasional stirring.
Add Vegetables: Incorporate chopped onion, bell pepper, and minced garlic. Cook until vegetables are tender (about 5-7 minutes).
Stir in Ingredients: Add diced tomatoes, kidney beans, tomato paste, water, chili powder, cumin, salt, pepper, paprika, and cinnamon. Bring the mixture to a boil.
Simmer: Reduce heat to low and simmer the chili for at least 30 minutes, allowing flavors to meld together.
Serve: Ladle the chili into bowls and serve hot. Garnish with toppings like cheese, sour cream, or chopped onions based on preference.
Tips:
Enhance Flavor Over Time:

For an even richer taste, let the chili simmer for longer than 30 minutes, allowing the flavors to meld and intensify.

Versatile Toppings:

Experiment with various toppings to customize your chili experience. Try shredded cheese, a dollop of sour cream, diced onions, or even a sprinkle of fresh cilantro.

Make it Ahead:

Wendy's Chili often tastes even better the next day. Consider making it ahead and letting it sit in the refrigerator to allow the flavors to develop further.

Adjust Spice Levels:

Tailor the spiciness to your preference by adjusting the amount of chili powder. Add a pinch of cayenne pepper for an extra kick if desired.

Freeze for Later:

Wendy's Chili freezes well. Portion it into freezer-safe containers for quick and convenient meals on busy days.

Serve with Cornbread:

Pair your chili with a side of cornbread for a classic combination that will elevate your dining experience.
Prepare to be delighted by the wholesome goodness of Wendy's Chili, a timeless recipe that warms the heart and satisfies the soul.