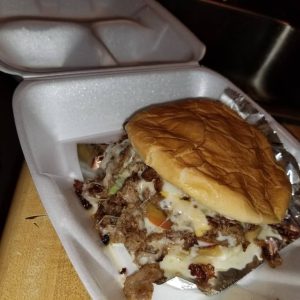 INGREDIENTS

2 lbs. ground beef
Montreal Steak Seasoning, to taste
2 small or 1 lg. Vidalia onion, peeled and sliced
1 green bell pepper, seeded and sliced
1 T. cooking oil
8 slices cheese of choice
8 hamburger buns
INSTRUCTIONS

Heat the gas grill to high heat.
Form the burger into eight 1/4 lb. patties. Season with Montreal Steak Seasoning or your favorite seasoning. Set aside.
Place the oil. onions and green pepper in a cast iron skillet. Season with salt and pepper. Place onto the hot grill and close the lid. Cook, occasionally stirring for about 10 minutes.
Place the burgers on the other side of the grill. Close the lid and cook for about 4 minutes on the first side. Flip the burgers. Stir the veggies. Close the lid and cook for another 4-6 minutes until your desired temperature. Stir the veggies, add cheese slices to the burgers, close the lid and turn off heat. Let burgers remain in hot grill for about 1 minute, until the cheese melts.
Remove the burgers to a platter and transfer the onions and peppers to a bowl. Place each burger on a bun and top with the peppers and onions.