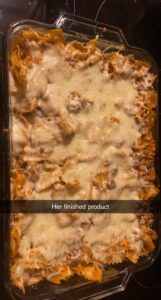 This meal is not only cheap but easy to make. My 13 year old daughter found it on TikTok and made it tonight. It's hamburger meat, cream cheese, marinara sauce, mozzarella cheese and noodles. I used 2lbs of meat, one block of cream cheese, one jar of marinara, a box of bow tie noodles and a small bag of mozzarella. Brown the meat and boil the noodles. Combine it all and put in a baking dish. Add your mozzarella and bake at 350* for 10 minutes
Ingredients:
2 pounds lean ground beef
1 block (8 oz) cream cheese, softened
1 jar (24 oz) marinara sauce
1 box (16 oz) bow tie noodles, cooked according to package instructions and drained
1 1/2 cups shredded mozzarella cheese
1 teaspoon olive oil
1 teaspoon garlic powder
1 teaspoon dried Italian seasoning
Salt and pepper, to taste
Fresh parsley, chopped, for garnish (optional)
Instructions:
1. Preheat the Oven: Preheat your oven to 350°F (175°C).
2. Brown the Ground Beef: In a large skillet, heat the olive oil over medium-high heat. Add the ground beef, breaking it apart with a wooden spoon, and cook until browned and no longer pink. Drain any excess grease from the pan.
3. Add Cream Cheese and Marinara: Reduce the heat to medium-low. Add the softened cream cheese to the cooked ground beef, stirring until it's well combined and creamy. Pour in the marinara sauce, and mix thoroughly. Season the mixture with garlic powder, dried Italian seasoning, salt, and pepper to taste. Simmer for a few minutes until the sauce is heated through and well combined.
4. Combine with Noodles: Add the cooked and drained bow tie noodles to the skillet, tossing gently to coat the noodles evenly with the meat and sauce mixture.
5. Assemble in Baking Dish: Transfer the cheesy meat and noodle mixture to a greased 9×13-inch baking dish, spreading it out evenly.
6. Add Mozzarella Cheese: Sprinkle the shredded mozzarella cheese evenly over the top of the pasta mixture, creating a delicious cheesy layer.
7. Bake: Place the baking dish in the preheated oven and bake for about 10-15 minutes or until the cheese is melted and bubbly, and the edges are lightly golden brown.
8. Garnish and Serve: Remove the pasta bake from the oven and let it cool for a few minutes. Garnish with chopped fresh parsley, if desired. Serve hot, and enjoy your easy, budget-friendly, and cheesy hamburger pasta bake!