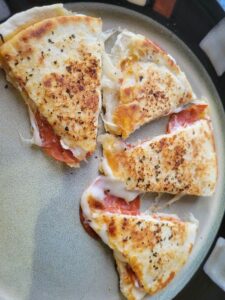 Pizza Quesadilla
Ingredients:
4 large flour tortillas
1 cup shredded mozzarella cheese
1/2 cup pepperoni slices
2 tablespoons unsalted butter
1 teaspoon garlic powder
1 teaspoon dried basil leaves
Marinara sauce, for dipping
Instructions:
Prepare the Pizza Filling:

In a mixing bowl, combine shredded mozzarella cheese and pepperoni slices. Toss them together to evenly distribute the pepperoni throughout the cheese.

Prepare the Tortillas:

Lay out the 4 large flour tortillas on a clean surface.
Sprinkle the cheese and pepperoni mixture evenly over two of the tortillas.
Place the remaining two tortillas on top, creating two quesadilla sandwiches.

Season and Butter the Quesadillas:

In a small bowl, mix together garlic powder and dried basil leaves.
Melt the unsalted butter in a skillet over medium heat.
Sprinkle the garlic and basil seasoning mix over the melted butter.

Cook the Quesadillas:

Carefully place one quesadilla in the skillet and cook until the bottom tortilla becomes golden and crispy, and the cheese begins to melt. This usually takes about 2-3 minutes per side.

Flip and Cook:

Carefully flip the quesadilla to the other side and cook until the second side is golden brown and the cheese is completely melted.

Serve:

Remove the quesadilla from the skillet and let it cool for a minute or two.
Use a sharp knife to cut the quesadilla into wedges or squares, as desired.
Serve the pizza quesadilla hot, with marinara sauce on the side for dipping.