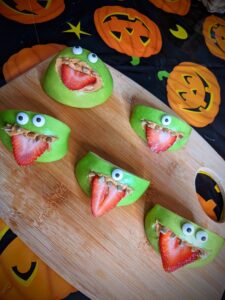 Monster Apple Bites
Ingredients:
2 large apples, cored and sliced into thick rounds
1/2 cup creamy peanut butter
1/4 cup raw sunflower seeds
Edible eyes
2-3 strawberries, hulled and sliced into thin rounds
Instructions:
1. Prepare the Apples:
Wash the apples thoroughly and pat them dry. Slice each apple into thick rounds, about 1/2 to 3/4 inch thick. Remove the seeds and any tough parts from the center of each round to create a mouth-like opening.
2. Create the Monster Mouths:
Spread a thin layer of peanut butter on one side of each apple round. This will act as the "glue" for the sunflower seeds and the top of the mouth.
Carefully press raw sunflower seeds around the inner edge of half of the apple rounds. These will resemble the monster's teeth.
Take the remaining apple rounds without sunflower seeds and gently press them on top of the seeded rounds, with the peanut butter acting as an adhesive, creating the monster mouths.
3. Add Eyes and Tongues:
Dab a small amount of peanut butter on the back of each edible eye and place them on top of the apples, near the top edge of the mouth, to create the eyes of the monsters.
Slice the strawberries into thin rounds. Cut a small V-shape at the top to create a tongue shape. Attach the strawberry tongues inside the monster mouths using a little peanut butter.
4. Serve and Enjoy:
Arrange the Monster Apple Bites on a serving platter and watch as your guests enjoy these adorable and spooky Halloween treats!
You can refrigerate them for a short while before serving to help set the peanut butter, but serve them the same day for the best freshness and taste.