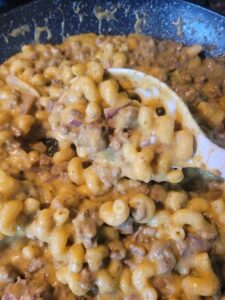 Homemade hamburger helper
1lb ground beef
Cavatappi noodles
Half of a red onion (I didn't have a white one)
1 can of campbells cheddar cheese soup
1 can of brocolli cheese soup
A couple splashes of milk
It was delicious! I think this would be really good with veggies added to it
Ingredients:
1 lb ground beef
2 cups cavatappi noodles, uncooked
1/2 red onion, finely chopped
1 can (10.75 oz) Campbell's cheddar cheese soup
1 can (10.75 oz) Campbell's broccoli cheese soup
1/2 cup milk (or more, as needed for desired consistency)
1 cup broccoli florets, steamed
1 cup carrots, sliced and steamed
Salt and pepper, to taste
Fresh parsley, chopped, for garnish (optional)
Instructions:
Cook the Pasta:

Cook the cavatappi noodles according to the package instructions until al dente. Drain and set aside.

Brown the Ground Beef:

In a large skillet, brown the ground beef over medium-high heat, breaking it apart with a spoon as it cooks. Drain any excess fat.

Add Onions:

Add the finely chopped red onion to the skillet with the cooked beef. Cook until the onions are soft and translucent.

Combine Soups and Milk:

Reduce the heat to low. Add the cheddar cheese soup, broccoli cheese soup, and a couple of splashes of milk to the skillet. Stir well to combine all the ingredients. Adjust the milk to achieve your desired creamy consistency.

Add Cooked Pasta and Veggies:

Add the cooked cavatappi noodles to the skillet, tossing them gently to coat them evenly with the creamy sauce.
Stir in the steamed broccoli florets and sliced carrots, adding a delightful crunch and nutrition to the dish.

Season and Simmer:

Season the mixture with salt and pepper to taste. Allow the skillet to simmer on low heat for a few minutes, letting all the flavors meld together.

Serve:

Remove from heat. Garnish with fresh chopped parsley if desired.
Serve the creamy beef and cheese pasta skillet with a side of garlic bread or a simple green salad for a complete and satisfying meal.
Enjoy your homemade creamy beef and cheese pasta skillet, now enhanced with the goodness of veggies!
Q1: Can I use ground chicken or turkey instead of beef in this recipe? A1: Yes, you can substitute ground chicken or turkey for beef in this recipe. Keep in mind that different meats might require slight adjustments in cooking times and seasoning to achieve the desired taste.
Q2: What type of pasta works best for this recipe? A2: Any short pasta like penne, rotini, or farfalle works well in this recipe. They hold the creamy sauce and mix well with the beef, cheese, and veggies.
Q3: Can I use frozen vegetables instead of fresh ones? A3: Yes, you can use frozen vegetables if you don't have fresh ones on hand. Just thaw them before adding them to the skillet. Frozen vegetables might release more moisture, so you might need to adjust the consistency of the sauce accordingly.
Q4: Can I make this recipe ahead of time? A4: Yes, you can prepare the components (cook the pasta, brown the beef, and chop the veggies) ahead of time and store them separately in the refrigerator. When you're ready to serve, reheat everything in the skillet, add the cheese and cream, and stir until heated through and creamy.
Q5: How long does the leftover pasta skillet last in the refrigerator? A5: Leftovers can be stored in an airtight container in the refrigerator for up to 3-4 days. Make sure to reheat it thoroughly before serving.
Q6: Can I freeze this pasta skillet? A6: It's not recommended to freeze dishes with creamy sauces as they can separate and become grainy upon thawing and reheating. Freezing might compromise the texture and flavor of the dish.
Q7: What can I serve as a side dish with this pasta skillet? A7: A fresh green salad, garlic bread, or a simple side of steamed vegetables make excellent accompaniments to this creamy pasta skillet. These sides complement the flavors and provide a balanced meal.