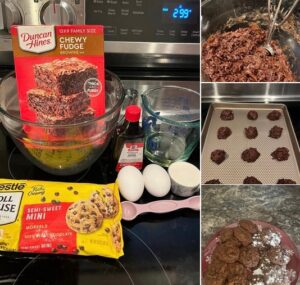 Sooo easy and delicious!
One box brownie mix
1/4 cup vegetable oil
1/4 cup flour
Two eggs
1 tsp vanilla
1 cup chocolate chips
Preheat oven to 375. Mix everything together and place cookie dough on greased cookie sheet. Bake for 10 minutes. When done, take out of oven and let them rest for 10 minutes. We added powdered sugar to half. Serve and enjoy!
Easy Chocolate Chip Brownie Cookies
Ingredients:
1 box brownie mix
1/4 cup vegetable oil
1/4 cup all-purpose flour
2 eggs
1 teaspoon vanilla extract
1 cup chocolate chips
Powdered sugar for dusting (optional)
Instructions:
Preheat Your Oven: Preheat your oven to 375°F (190°C). Prepare a baking sheet by greasing it or lining it with parchment paper.
Mix Dry Ingredients: In a large mixing bowl, combine the brownie mix and all-purpose flour. This will give your cookies the perfect texture.
Add Wet Ingredients: Add the vegetable oil, eggs, and vanilla extract to the dry mixture. Mix everything together until well combined. The mixture will be thick and fudgy.
Add Chocolate Chips: Gently fold in the chocolate chips into the brownie cookie dough. The chocolate chips will add extra bursts of chocolatey goodness.
Form Cookies: Use a cookie scoop or a tablespoon to drop rounds of cookie dough onto the prepared baking sheet. Make sure to leave some space between each cookie as they will spread while baking.
Bake: Place the baking sheet in the preheated oven and bake for about 10 minutes or until the edges of the cookies are set and slightly crispy. The centers will be soft, but they will firm up as they cool.
Cool: When the cookies are done baking, remove the baking sheet from the oven and let the cookies rest for about 10 minutes. This allows them to firm up and become easier to handle.
Optional: Dust with Powdered Sugar: If desired, dust some powdered sugar over the cooled cookies for a delightful finish. This step adds a touch of sweetness and a lovely presentation.
Serve and Enjoy: These easy chocolate chip brownie cookies are now ready to be enjoyed! They are perfect for parties, dessert tables, or just a sweet treat to indulge in.
These cookies are incredibly easy to make and are sure to satisfy any chocolate lover's cravings. Enjoy your delicious homemade treats!