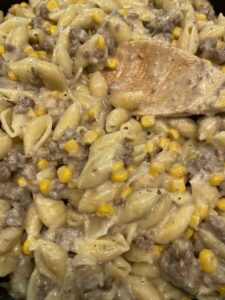 Homemade Hamburger Helper with a Spicy Twist is a customized and flavorful version of the classic Hamburger Helper dish, which is a packaged mix of pasta and seasonings designed to be cooked with ground meat. In this homemade version, the dish is made from scratch with a blend of ground beef, onions, spices, and a creamy sauce. The "spicy twist" comes from the addition of ghost pepper cheese, providing a spicy kick to the dish.

1 lb ground beef + 1 small onion, cooked not drained
+ 1/3 cup flour, mix a few minutes
+ 1.5 cups milk (more for creamier sauce)
+salt, pepper, onion powder, garlic, other seasonings you like
+16 oz of whatever pasta you want
I also added two slices of random ghost pepper cheese we had leftover and a can of corn. Makes a lot!
Ingredients:
1 lb ground beef
1 small onion, finely chopped
1/3 cup all-purpose flour
1.5 cups milk (add more for a creamier sauce)
Salt and pepper, to taste
Onion powder, to taste
Garlic powder, to taste
Other seasonings of your choice (such as paprika, cayenne pepper, or Italian seasoning)
16 oz pasta of your choice (elbow macaroni or rotini work well)
2 slices ghost pepper cheese (or any other cheese of your choice), chopped
1 can (15 oz) corn, drained
Instructions:
Cook the Ground Beef and Onions: In a large skillet, cook the ground beef and chopped onion over medium heat until the beef is browned and the onion is translucent. Do not drain the excess fat.
Prepare the Roux: Sprinkle the flour over the cooked beef and onions. Stir well to combine and cook for a few minutes, allowing the flour to cook and get rid of the raw taste.
Create the Sauce: Gradually pour in the milk, stirring constantly to avoid lumps. Continue cooking and stirring until the mixture thickens and becomes smooth, forming a creamy sauce. If the sauce is too thick, you can add more milk until you reach your desired consistency.
Season the Sauce: Season the sauce with salt, pepper, onion powder, garlic powder, and any other seasonings you like. Be cautious with the salt if your cheese is salty. Stir well to incorporate the seasonings into the sauce.
Cook the Pasta: Meanwhile, cook the pasta according to the package instructions until al dente. Drain and set aside.
Add Cheese and Corn: Reduce the heat to low. Add the chopped ghost pepper cheese (or your cheese of choice) to the sauce. Stir until the cheese is melted and the sauce is smooth. Then, add the drained can of corn and stir to combine.
Combine Pasta and Sauce: Add the cooked pasta to the skillet with the sauce. Gently toss the pasta in the sauce until it is well coated and everything is evenly combined.
Can I use a different type of meat instead of ground beef?

Yes, you can substitute ground beef with ground turkey, chicken, or even plant-based alternatives like crumbled tofu or tempeh for a different flavor profile.

Is ghost pepper cheese very spicy?

Ghost pepper cheese is known for its spiciness. If you prefer a milder version, you can use a cheese with less heat or omit the spicy cheese altogether.

Can I make this dish ahead of time?

While the pasta may absorb some of the sauce over time, you can prepare the components in advance and assemble the dish just before serving. Reheat gently to avoid overcooking the pasta.

What other cheeses work well in this recipe?

You can use a variety of cheeses based on your preference. Cheddar, pepper jack, or a blend of different cheeses can add richness and flavor to the dish.

Can I make this recipe gluten-free?

Yes, you can use gluten-free flour and gluten-free pasta to make the dish suitable for those with gluten sensitivities.

How do I adjust the spice level?

To control the spice level, choose a milder cheese or reduce the amount of spicy seasoning. You can also omit the ghost pepper cheese and add a mild cheese of your choice.

Can I add vegetables to this dish?

Absolutely! Feel free to incorporate vegetables like bell peppers, spinach, or mushrooms for added nutrition and flavor.

What type of pasta is best for this recipe?

Any pasta shape works well, but elbow macaroni, rotini, or shells are popular choices as they trap the sauce and hold flavors effectively.

How do I store leftovers?

Store leftovers in an airtight container in the refrigerator for up to 3-4 days. Reheat in the microwave or on the stove with a splash of milk to maintain creaminess.

Can I freeze this dish?

While pasta dishes can be frozen, the texture may change slightly upon thawing. If freezing, consider undercooking the pasta slightly to account for the additional cooking during reheating.

What are some suggested side dishes to serve with this meal?

A simple green salad, garlic bread, or steamed vegetables make excellent side dishes to complement the flavors of the Homemade Hamburger Helper.

How can I make this dish more kid-friendly?

To make it more kid-friendly, you can use a mild cheese, reduce the spice level, and add colorful vegetables that appeal to children.
Feel free to customize the recipe based on your preferences and dietary needs. These frequently asked questions provide insights into making adjustments and variations to suit different tastes and requirements