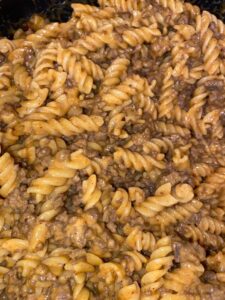 Simple dinner, especially for big families like ours! Plus it's fairly cheap too!

Cheesy taco pasta!

A lb of ground meat
A box of Rotini noodles (you can probably use any kind, this was just my preference)
Half a block of Velveeta cheese (or any brand)
& one packet of taco seasoning.
You can also add a can of tomatoes but a couple of people in my family don't like them so I left those out.
We served it with garlic toast & it was DELICIOUS!
Ingredients:
1 lb ground meat (beef, chicken, turkey, or plant-based alternative)
1 box (16 oz) Rotini noodles (or any pasta of your choice)
1/2 block (8 oz) Velveeta cheese, cubed (or any preferred brand of processed cheese)
1 packet (1 oz) taco seasoning mix
1 can (14.5 oz) diced tomatoes, optional (omit if some family members don't like them)
2 tablespoons olive oil
Salt and pepper, to taste
Chopped fresh cilantro, green onions, or sliced jalapeños for garnish (optional)
Garlic toast, for serving
Instructions:
1. Cook the Pasta:
Bring a large pot of salted water to a boil. Cook the Rotini noodles according to the package instructions until al dente. Drain and set aside.
2. Brown the Meat:
In a large skillet, heat olive oil over medium-high heat. Add the ground meat and cook, breaking it apart with a wooden spoon, until it's no longer pink and nicely browned. Drain excess fat if necessary.
3. Add Taco Seasoning:
Sprinkle the taco seasoning mix over the cooked meat. Stir well to combine, ensuring the meat is evenly coated with the seasoning. If you're using diced tomatoes, add them at this stage and cook for a couple of minutes until they soften.
4. Add Cheese:
Reduce the heat to low. Add the cubed Velveeta cheese to the skillet. Stir continuously until the cheese is completely melted and forms a creamy sauce with the seasoned meat. If the sauce is too thick, you can add a splash of water or milk to achieve your desired consistency.
5. Combine Pasta and Cheese Sauce:
Add the cooked and drained Rotini noodles to the skillet with the cheesy taco mixture. Toss everything together until the pasta is well coated with the cheesy sauce. Season with salt and pepper to taste.
6. Serve:
Garnish the cheesy taco pasta with chopped fresh cilantro, green onions, or sliced jalapeños if desired.