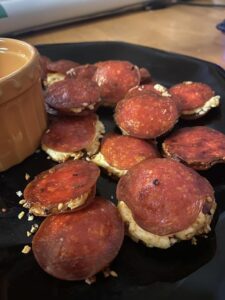 SUPER EASY! Get a Pepperoni, spread cream cheese and sprinkle everything bagel, cover with another pepperoni, 400° for 10 mins. Serve with a side of ranch or marinara
Easy Pepperoni Cream Cheese Bagel Bites
Ingredients:
12 slices of pepperoni
4 tablespoons cream cheese, softened
2 tablespoons everything bagel seasoning
Cooking spray
Ranch dressing or marinara sauce, for serving
Instructions:
Preheat the Oven: Preheat your oven to 400°F (200°C) and line a baking sheet with parchment paper or lightly grease it with cooking spray.
Prepare the Pepperoni: Lay out 6 slices of pepperoni on the prepared baking sheet.
Add Cream Cheese: Spread about 1 teaspoon of softened cream cheese on each slice of pepperoni on the baking sheet.
Sprinkle Everything Bagel Seasoning: Sprinkle a generous pinch of everything bagel seasoning over the cream cheese on each pepperoni slice.
Top with Another Pepperoni Slice: Place another slice of pepperoni over the cream cheese and seasoning to create a sandwich-like structure.
Bake: Transfer the baking sheet to the preheated oven and bake the pepperoni bites for 10 minutes or until the edges are crispy and the cream cheese is slightly melted.
Serve: Remove from the oven and let the bagel bites cool for a minute or two. Serve them warm with a side of ranch dressing or marinara sauce for dipping.
Enjoy your super easy and delicious Pepperoni Cream Cheese Bagel Bites! Perfect for snacking or as a party appetizer.