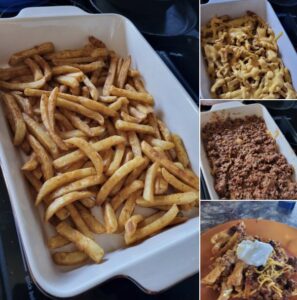 Sloppy Joe Fries!!
1 bag French fries
2 Velveeta cheese pouches
2lbs hamburger
2 cans manwich
*cook fries as directed on bag
*brown hamburger meet and add manwich cans
* remove fries once cooked and cover with cheese sauce
* add manwich mix
Bake for 10 minutes at 350
Top with sour cream!
Seriously this was AMAZING!
Ingredients:
1 bag (about 24 oz) frozen French fries
2 Velveeta cheese pouches (or about 2 cups of your favorite cheese sauce)
2 lbs ground beef
2 cans (15 oz each) Manwich Original Sloppy Joe Sauce
Salt and pepper, to taste
1 cup sour cream, for garnish
Chopped green onions, for garnish (optional)
Instructions:
Prepare the Fries:

Preheat your oven and cook the French fries according to the package instructions until they are golden and crispy.

Prepare the Cheese Sauce:

While the fries are baking, heat the Velveeta cheese pouches in a saucepan over low heat, stirring frequently until the cheese is smooth and creamy. If you prefer a homemade cheese sauce, you can make one by melting butter in a saucepan, adding flour to make a roux, and then whisking in milk and cheese until smooth. Season with salt and pepper to taste.

Prepare the Sloppy Joe Mix:

In a large skillet, brown the ground beef over medium-high heat. Break it up into small pieces as it cooks. Drain any excess grease.
Add the Manwich Original Sloppy Joe Sauce to the cooked ground beef. Stir well to combine and let it simmer for a few minutes until the flavors meld together. Season with salt and pepper if needed.

Assemble the Sloppy Joe Fries:

Once the fries are done, remove them from the oven. Arrange the hot fries on a large serving platter or individual plates.
Pour the warm cheese sauce generously over the fries, ensuring each fry is coated in creamy goodness.
Spoon the hot Sloppy Joe mixture evenly over the cheesy fries, making sure each fry gets a generous helping of the flavorful meat sauce.

Bake and Garnish:

Preheat your oven to 350°F (175°C).
Place the assembled fries in the oven and bake for 10 minutes. This helps to meld all the flavors together and keeps everything warm.

Serve:

Remove the fries from the oven and let them cool for a minute or two.
Drizzle dollops of sour cream over the top, and sprinkle with chopped green onions if desired.

Enjoy!

Grab a fork and dig into the layers of crispy fries, cheesy goodness, savory Sloppy Joe mix, and creamy sour cream. Enjoy your indulgent and delicious Sloppy Joe Fries Supreme!