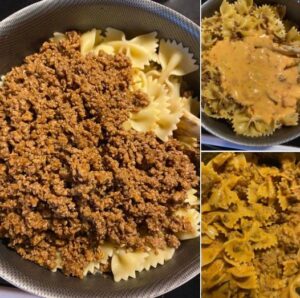 Cheesy taco pasta!
Boil 1 box of pasta (any kind works)(I used bow tie)
1 lb of hamburger seasoned with a pack of taco seasoning
Half a block of velveeta
1/2 jar of your favorite salsa
Melt the velveeta and salsa together, set it aside. Brown the hamburger, drain it and add the taco seasoning. Add the hamburger and velveeta to your cooked pasta and mix it really well. You can add shredded cheese and more salsa on top if you want!
Cheesy Taco Pasta Recipe:
Ingredients:
1 box of pasta (16 oz), any kind (e.g., bow tie, penne, or elbow)
1 lb ground beef
1 packet of taco seasoning mix
1/2 block of Velveeta cheese, cubed
1/2 jar of your favorite salsa
Shredded cheese (optional, for topping)
Chopped fresh cilantro or green onions (optional, for garnish)
Instructions:
Cook the Pasta:

Bring a large pot of salted water to a boil.
Cook the pasta according to the package instructions until al dente.
Drain the pasta and set it aside.

Prepare the Cheesy Sauce:

In a saucepan over medium heat, melt the cubed Velveeta cheese and salsa together, stirring frequently until smooth and well combined.
Once the cheese is melted and the sauce is creamy, remove it from heat and set aside.

Cook the Ground Beef:

In a separate skillet, cook the ground beef over medium-high heat until it's no longer pink, breaking it apart with a spoon as it cooks.
Drain any excess fat from the cooked beef.
Add the taco seasoning mix to the cooked beef according to the package instructions. Stir well to coat the meat evenly with the seasoning.

Combine Pasta, Cheesy Sauce, and Seasoned Beef:

In the pot used to cook the pasta, combine the cooked pasta, seasoned ground beef, and the prepared cheesy sauce.
Gently toss the mixture until the pasta and beef are evenly coated with the cheesy sauce.

Serve:

Serve the cheesy taco pasta hot.
Optionally, top the pasta with shredded cheese for an extra cheesy kick.
Garnish with chopped fresh cilantro or green onions, if desired, to add a burst of freshness and color.