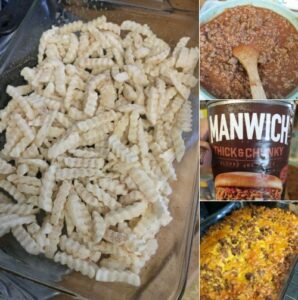 Made this for dinner tonight. Mine is french fries on the bottom sloppy joe hamburger cooked with foil over top on 375 for 30 minutes took the foil off put cheese on top cook for another 10 minutes
Cheesy Sloppy Joe Fries Bake
Ingredients:
4 large potatoes, washed, peeled, and cut into fries
1 pound ground beef
1 small onion, finely chopped
1 bell pepper, diced (any color you prefer)
2 cloves garlic, minced
1 cup ketchup
2 tablespoons tomato paste
2 tablespoons Worcestershire sauce
1 tablespoon brown sugar
1 teaspoon chili powder
Salt and pepper, to taste
1 ½ cups shredded cheddar cheese
Green onions, chopped, for garnish (optional)
Sour cream, for serving (optional)
Instructions:
Preheat the Oven: Preheat your oven to 375°F (190°C).
Prepare the French Fries: In a large bowl, toss the cut potatoes with a bit of oil, salt, and pepper. Arrange them in a single layer on a baking sheet and bake for about 25-30 minutes or until they are golden and crispy, turning them halfway through the cooking time.
Prepare the Sloppy Joe Mixture: While the fries are baking, in a large skillet over medium heat, cook the ground beef until it's no longer pink. Drain excess fat if necessary. Add chopped onions, diced bell pepper, and minced garlic to the skillet. Cook until the vegetables are softened, about 3-4 minutes.
Add the Flavor: Stir in the ketchup, tomato paste, Worcestershire sauce, brown sugar, chili powder, salt, and pepper. Simmer the mixture for about 5-7 minutes until it thickens and the flavors meld together. Adjust seasoning to taste.
Assemble the Dish: Once the fries are ready, remove them from the oven. Spoon the sloppy joe mixture evenly over the fries.
Add Cheese and Bake: Sprinkle the shredded cheddar cheese over the sloppy joe mixture. Return the baking sheet to the oven and bake for an additional 10 minutes or until the cheese is melted and bubbly.
Serve: Remove from the oven and let it cool for a few minutes. Garnish with chopped green onions if desired. Serve hot, optionally with a dollop of sour cream on the side.