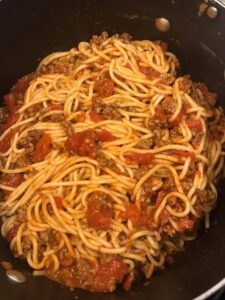 My Tuesday tradition, Taco Spaghetti 

– 1 pound ground beef
– 1 packet taco seasoning
– 2/3 cup water
– 1 can Rotel Tomatoes
– 8oz Spaghetti
– 1 cup shredded cheese
– 1 -2 small cans of Tomato Paste (depending on how saucy you want it)
1. Start boiling spaghetti noodles like normal , then drain and set aside.
2. Brown ground beef and drain. Then add ground beef back to pan and add taco seasoning and 2/3 cup of water and let simmer for 3-5 minutes.
3. Once that is done put the meat mixture in the pot with the spaghetti, then add the tomato paste and rotel tomatoes and mix together well then top with shredded cheese and serve
*I didn't have Rotel today so I just used diced tomatoes*
Frequently Asked Questions About Taco Spaghetti:
Q1: What is Taco Spaghetti? Taco Spaghetti is a flavorful and comforting dish that combines the flavors of tacos with the heartiness of spaghetti. It typically includes ground meat (such as beef or turkey), taco seasoning, spaghetti noodles, cheese, and various taco toppings.
Q2: Can I use different types of meat in Taco Spaghetti? Yes, you can use different types of meat in Taco Spaghetti. Ground beef, turkey, chicken, or even plant-based alternatives like tofu or lentils can be used to prepare this dish, depending on your dietary preferences.
Q3: How spicy is Taco Spaghetti? The spiciness of Taco Spaghetti can be adjusted to your preference. If you enjoy mild flavors, you can use a mild taco seasoning or reduce the amount of spices. For a spicier kick, opt for a hot or spicy taco seasoning mix or add some diced jalapeños or chili flakes.
Q4: Can I make Taco Spaghetti ahead of time? Yes, Taco Spaghetti can be prepared ahead of time. You can cook the meat and prepare the sauce in advance. Store them separately in airtight containers in the refrigerator. When you're ready to serve, reheat the sauce while boiling the spaghetti, then combine and top with cheese and other toppings.
Q5: What kind of cheese is best for Taco Spaghetti? Common choices for cheese in Taco Spaghetti include shredded cheddar, Monterey Jack, or a Mexican blend. These cheeses melt well and complement the flavors of the dish. Feel free to use a combination of your favorite cheeses for a more complex flavor.
Q6: What toppings can I add to Taco Spaghetti? Toppings for Taco Spaghetti can vary based on personal preference. Common toppings include diced tomatoes, sliced black olives, chopped green onions, sour cream, avocado slices, and fresh cilantro. You can customize the toppings to suit your taste.
Q7: Can I make Taco Spaghetti vegetarian or vegan? Yes, Taco Spaghetti can be made vegetarian or vegan. For a vegetarian version, you can use plant-based ground meat alternatives or simply increase the quantity of vegetables in the sauce. For a vegan version, choose plant-based ground meat and use vegan cheese and sour cream substitutes.
Q8: How long does Taco Spaghetti leftovers last in the fridge? Leftover Taco Spaghetti can be stored in an airtight container in the refrigerator for up to 3-4 days. Reheat it in the microwave or on the stovetop, adding a splash of water or broth to prevent it from drying out.
Q9: Can I freeze Taco Spaghetti? Yes, you can freeze Taco Spaghetti. Let the dish cool completely, then transfer it to a freezer-safe container or freezer bags. It can be stored in the freezer for up to 2-3 months. Thaw the frozen spaghetti in the refrigerator overnight before reheating it on the stove or in the microwave.