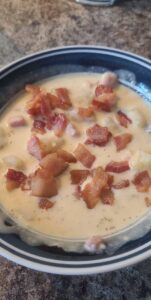 Cheesy crockpot potato soup 

**INGREDIENTS**
• 6 Large peeled yukon gold potatoes 1/2 in cubes
•1 medium onion minced "I used dried minced onion"
• 3 cloves garlic minced
• 1 teaspoon of salt "I used just a little more"
• 1 teaspoon of pepper "I used a little more"
• 4-6 cups chicken broth "I used 4 1/2 cups"
• 1 cup milk
• 3 table spoons of all purpose flour
• 1/2 cup heavy whipping cream or half and half "I used heavy whipping cream"
• 1 lb Velveeta cheese cut into cubes
• bacon cooked " put some in it and saved some to garnish when served"
• 1 1/2 packs of diced ham
**DIRECTIONS**
• Add potatoes, onion, garlic, salt, pepper and chicken broth to the crock pot cook 3 1/2 hours on high or 6-8 on low until potatoes are fork tender.
• With 20 minutes remaining add ham and bacon to the soup.
• At the finished cooking time wisk 3 tablespoons of flour into 1 cup of milk until smooth stir flour mixture into the potatoes mix add 1/2 cup of heavy cream stir and cover and cook another 30 minutes.
• Add chunks of cheese and allow to melt serve and garnish with bacon
Q1: Can I use any type of potatoes for cheesy crockpot potato soup? A1: Yes, you can use various types of potatoes such as russet, red, or Yukon gold potatoes. Russet potatoes are commonly used for their high starch content, which helps thicken the soup.
Q2: Do I need to peel the potatoes before adding them to the crockpot? A2: It's a matter of personal preference. Some people prefer to peel the potatoes for a smoother soup, while others like the rustic texture that the potato skins add. If you choose to keep the skins on, make sure to wash the potatoes thoroughly.
Q3: Can I make this soup ahead of time and reheat it later? A3: Yes, you can make cheesy crockpot potato soup ahead of time and reheat it. Store the soup in an airtight container in the refrigerator for up to 3-4 days. Reheat it gently on the stovetop over low heat, stirring occasionally, until heated through.
Q4: Can I freeze cheesy crockpot potato soup? A4: Yes, you can freeze cheesy crockpot potato soup. However, dairy-based soups like this one can sometimes separate and change in texture after freezing. To minimize this, cool the soup completely before transferring it to freezer-safe containers. Leave some space at the top of the container to allow for expansion. When reheating, you might need to whisk or blend the soup to restore its creamy texture.
Q5: Can I use low-fat or skim milk to make this soup healthier? A5: Yes, you can use low-fat or skim milk as a lighter alternative. However, keep in mind that using lower-fat dairy products might result in a slightly less creamy texture and a milder flavor. You can compensate for this by adding extra seasoning, such as herbs, spices, or a bit more cheese, to enhance the taste.
Q6: What can I serve with cheesy crockpot potato soup? A6: Cheesy crockpot potato soup pairs well with a variety of side dishes. Some popular options include crusty bread, garlic bread, a simple green salad, or a side of steamed vegetables. You can also serve it with a sprinkle of chopped chives, crispy bacon bits, or extra shredded cheese on top for added flavor and texture.
Q7: Can I make this soup vegetarian or vegan? A7: Yes, you can make a vegetarian version of cheesy crockpot potato soup by using vegetable broth instead of chicken broth and omitting any meat-based toppings. To make it vegan, you can use plant-based milk (such as almond, soy, or oat milk) and vegan cheese alternatives. Make sure the cheese and other ingredients you use are certified vegan if you're following a strict vegan diet.