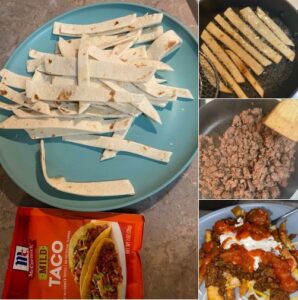 Taco fries. Cheap, easy to make, and toddler friendly. I used deer burger for these and boy were they yummy 

Ingredients:
McCormick mild taco seasoning pack
Tortillas cut into fry like size
Oil for frying tortilla pieces
Deer burger or whatever ground meat you have/prefer
Toppings of your choice
Taco Fries with Deer Burger
Ingredients:
1 pound deer burger (or ground meat of your choice)
1 packet McCormick mild taco seasoning
4-5 large flour tortillas, cut into fry-like strips
Vegetable oil, for frying
Salt, to taste
Toppings of your choice: shredded lettuce, diced tomatoes, shredded cheese, sour cream, guacamole, salsa, etc.
Instructions:
1. Prepare the Taco Meat:
In a skillet over medium heat, cook the deer burger (or ground meat) until it's fully browned and cooked through, breaking it apart with a spoon as it cooks.
Drain excess fat from the cooked meat and return it to the skillet.
Add the McCormick mild taco seasoning packet and the amount of water specified on the seasoning packet. Stir well to combine.
Simmer the taco meat mixture for a few minutes until it thickens. Remove from heat and set aside.
2. Prepare the Tortilla Fries:
Cut the flour tortillas into thin strips, resembling the shape of fries.
Heat vegetable oil in a deep skillet or frying pan over medium-high heat.
Carefully place the tortilla strips in the hot oil, frying them in batches until they turn golden brown and crispy, about 2-3 minutes per batch.
Use a slotted spoon to remove the fried tortilla strips from the oil and place them on a plate lined with paper towels to drain excess oil.
Sprinkle the hot tortilla fries with a pinch of salt while they are still fresh from the oil.
3. Assemble the Taco Fries:
On a serving platter, spread out the crispy tortilla fries.
Spoon the seasoned taco meat over the top of the fries, distributing it evenly.
Add your favorite toppings over the taco meat. You can start with shredded lettuce, followed by diced tomatoes, shredded cheese, sour cream, guacamole, salsa, or any other toppings your toddler enjoys.
4. Serve and Enjoy:
Serve the taco fries immediately while they're hot and crispy. Encourage your toddler to customize their own plate with their favorite toppings, making it a fun and interactive mealtime experience.