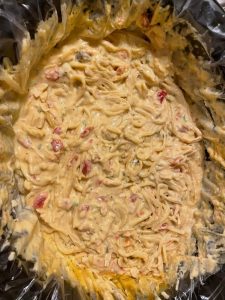 Creamy crockpot chicken spaghetti
I used a rotisserie chicken and shredded
1 big can of cream of chicken
1 can of cream of mushroom with roasted garlic
1 block of cream cheese
1 16oz block of velveeta (cubed)
1 can of mild Rotel (did not drain)
1/2 cup of chicken broth
1/2 stick of butter
3 green onions (chopped)
Threw it all in the crock pot, and cooked it on high for 2 hours while stirring occasionally.
Cooked the noodles on the stove then added them to the sauce, then added some seasonings like salt, pepper, garlic powder, garlic salt, onion powder, and Italian seasoning.
Absolutely delicious and super easy!