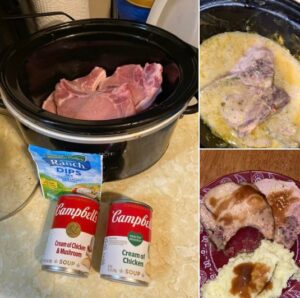 Bone in pork chops in the crock pot.
3 hours on high, 1 on low.
Add a can of cream of mushroom , a can of cream of chicken & a packet of ranch seasoning.
Meat falls right off the bone, even my 2.5 year old loved them.

My plating isn't the prettiest but photo for reference
Crock Pot Creamy Ranch Pork Chops
Ingredients:
4 bone-in pork chops
1 can (10.5 oz) cream of mushroom soup
1 can (10.5 oz) cream of chicken soup
1 packet ranch seasoning mix
Salt and pepper, to taste
Fresh parsley, chopped, for garnish (optional)
Instructions:
Prepare the Pork Chops:

Season the pork chops with salt and pepper on both sides.
Place the pork chops at the bottom of the crock pot in a single layer.

Prepare the Sauce:

In a mixing bowl, combine the cream of mushroom soup, cream of chicken soup, and ranch seasoning mix. Stir well to combine all the ingredients.

Pour the Sauce Over the Pork Chops:

Pour the creamy ranch mixture over the pork chops in the crock pot, ensuring that the pork chops are well-coated with the sauce.

Cook in the Crock Pot:

Cover the crock pot and cook on high for 3 hours. After 3 hours, reduce the heat to low and continue cooking for 1 more hour. The low heat will ensure the pork chops are tender and flavorful.

Serve:

Carefully remove the pork chops from the crock pot. They should be very tender and falling off the bone.
Spoon some of the creamy sauce over each pork chop.

Garnish and Serve:

Garnish with freshly chopped parsley, if desired, for a burst of color and freshness.
Serve the creamy ranch pork chops hot with your favorite side dishes. These chops pair wonderfully with mashed potatoes, rice, or steamed vegetables.
Q1: Can I use boneless pork chops instead of bone-in pork chops for this recipe? A1: Yes, you can use boneless pork chops if you prefer. However, bone-in pork chops tend to result in more flavorful and tender meat.
Q2: Can I use homemade ranch seasoning instead of a packet? A2: Certainly! You can substitute the packet of ranch seasoning with about 2-3 tablespoons of homemade ranch seasoning mix. Adjust the quantity according to your taste preference.
Q3: Can I cook this recipe on low for a longer time instead of high for 3 hours and then low for 1 hour? A3: Yes, you can. Cooking on low for a longer duration (around 6-8 hours) will also result in tender and flavorful pork chops. Just make sure the internal temperature of the pork chops reaches at least 145°F (63°C) for safe consumption.
Q4: Can I freeze the leftovers? A4: Absolutely! Allow the leftover pork chops to cool completely, then store them in an airtight container in the freezer for up to 2-3 months. To reheat, thaw them in the refrigerator overnight and warm them in the microwave or on the stove.
Q5: What are some good side dishes to serve with these pork chops? A5: Creamy ranch pork chops pair well with mashed potatoes, rice, pasta, steamed vegetables, or a fresh green salad. The creamy sauce also complements crusty bread or dinner rolls.
Q6: Can I double or halve this recipe? A6: Yes, you can easily adjust the quantities to fit your needs. Keep in mind that the cooking time might vary slightly if you significantly change the amount of meat and sauce.
Q7: Can I use other cream soups instead of cream of mushroom and cream of chicken? A7: Certainly! You can experiment with other cream soups like cream of celery, cream of broccoli, or even cheddar cheese soup to create different flavor variations.
Q8: Is it possible to prepare this recipe without a crock pot? A8: Yes, you can make a stovetop version of this recipe. Brown the seasoned pork chops in a skillet over medium-high heat, then add the prepared creamy ranch sauce. Reduce the heat to low, cover, and simmer for about 45 minutes to 1 hour, or until the pork chops are tender.