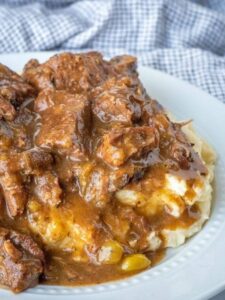 This Mushroom Crock Pot Cube Steak & Gravy is comfort food in a slow cooker
2-3 pounds cube steak
2 tablespoons canola oil
1 cup all purpose flour
1 teaspoon salt
1 teaspoon pepper
1 large white onion, cut into large chunks
Whisk together the flour, salt and pepper in a medium sized bowl. Place the oil in a large skillet and heat to medium high heat.
Dredge the cube steak through the flour mixture, coating all sides. When the oil is heated Add in the onion and cook for 4-5 minutes. Add the cube steak to the frying pan. Fry all of the steak until it's browned on all sides.
Spray your crockpot liner with cooking spray. Place the cube steak and onions in the bottom of the crockpot. cook on high for 5 low for 8.