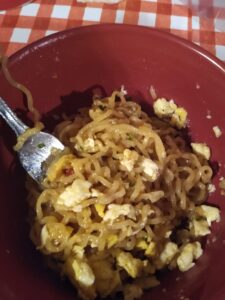 viral ramen noodle hack!
Boil ramen noodles as usual
In a separate pan add butter, garlic, red crushed pepper, soy sauce and brown sugar to your taste( I did not measure either ingredients)
Once melted and into a sauce, drain noodles and mix together in pan.
Push noodles to the side, add a scrambled egg
Once egg is cooked mix together.
Pour in a bowl and sprinkle chives and everything bagel seasoning!
It has a hint* of spice mixed with a sweet savory flavor
Your best hack to affordable home made hibachi or Chinese!
Worth a try
ANOTHER VERSION OF THE RECIPE
Ingredients:
1 pack of ramen noodles
2 tablespoons unsalted butter
3 cloves garlic, minced
1/2 teaspoon red crushed pepper flakes (adjust to taste)
2 tablespoons soy sauce (or to taste)
1-2 tablespoons brown sugar (or to taste)
1 large egg, beaten
Chopped chives, for garnish
Everything bagel seasoning, for garnish
Instructions:
Boil the Ramen Noodles: Cook the ramen noodles according to the package instructions. Drain and set aside.
Prepare the Spicy Garlic Butter Sauce: In a separate pan, melt the butter over medium heat. Add the minced garlic and red crushed pepper flakes. Sauté until the garlic is fragrant but not browned.
Add Soy Sauce and Brown Sugar: Stir in soy sauce and brown sugar to the buttery garlic mixture. Adjust the quantities to your taste preferences. Let it simmer for a couple of minutes until the sauce thickens slightly.
Combine Noodles and Sauce: Add the drained ramen noodles to the pan with the spicy garlic butter sauce. Toss the noodles until they are well coated with the sauce. Push the noodles to one side of the pan.
Cook the Scrambled Egg: In the empty side of the pan, pour the beaten egg. Let it sit for a moment until it begins to set around the edges, then gently scramble it with a spatula. Once the egg is fully cooked, mix it with the noodles.
Serve: Transfer the noodles and egg to a bowl.
Garnish: Sprinkle chopped chives and a generous amount of everything bagel seasoning over the top for added flavor and texture.
Enjoy: Your Spicy Garlic Butter Ramen Noodles with Scrambled Egg and Chive-Bagel Seasoning Garnish are ready to enjoy! This flavorful and budget-friendly dish offers a delightful mix of spicy, savory, and slightly sweet flavors, making it a perfect hack for homemade hibachi or Chinese-inspired cuisine.
the Spicy Garlic Butter Ramen Noodles with Scrambled Egg and Chive-Bagel Seasoning Garnish is not low-carb. Ramen noodles and brown sugar are both high in carbohydrates, which makes this dish unsuitable for a low-carb diet. If you are looking for a low-carb alternative, you can consider using spiralized vegetables like zucchini or spaghetti squash instead of ramen noodles. Additionally, you may need to replace the brown sugar with a low-carb sweetener alternative to reduce the carb content further.