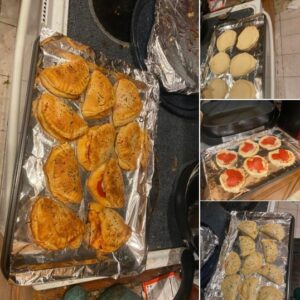 Homemade hot pockets

• Ingredients
• biscuits- I used Pillsbury (buttery but I think original ended up being better)
• sauce- used great value pasta sauce
• mozzarella cheese
• pepperoni (or any toppings)
• butter
• garlic powder, Italian seasoning and parsley
Stretch the biscuits out so they are thin but don't rip. Apply sauce, cheese and pizza toppings, fold in half and use a fork to crimp the edges. Melt butter and mix in garlic powder, Italian seasoning and parsley to liking. Gently brush over the top of the folded biscuits (I used a clean toothbrush
). Shake over extra parsley and seasoning. Bake according to the biscuits you use!
Homemade Hot Pockets Recipe
Ingredients:
1 can of refrigerated biscuits (such as Pillsbury, original or buttery)
1/2 cup pasta sauce (Great Value or your favorite brand)
1 cup shredded mozzarella cheese
Pepperoni slices or your choice of pizza toppings
2 tablespoons butter
1/2 teaspoon garlic powder
1/2 teaspoon Italian seasoning
1/2 teaspoon dried parsley, plus extra for garnish
Instructions:
Preheat the Oven: Preheat your oven according to the instructions on the biscuit can.
Prepare the Biscuits: Take each biscuit and gently stretch it out to make it thin without ripping. Place them on a baking sheet lined with parchment paper.
Add the Sauce and Toppings: Spoon a tablespoon of pasta sauce onto one half of each stretched biscuit. Add a layer of shredded mozzarella cheese and your desired pizza toppings (such as pepperoni slices).
Fold and Seal: Carefully fold the other half of the biscuit over the toppings to create a half-moon shape. Use a fork to crimp the edges, sealing the hot pocket.
Prepare the Butter Seasoning: In a microwave-safe bowl, melt the butter. Add garlic powder, Italian seasoning, and dried parsley to the melted butter. Adjust the seasonings according to your preference, and mix well.
Brush with Butter Seasoning: Using a clean brush (or a clean toothbrush), gently brush the melted butter seasoning mixture over the top of each folded biscuit. Ensure the entire surface is coated.
Garnish: Sprinkle some extra dried parsley and seasoning over the hot pockets for added flavor and visual appeal.
Bake: Place the baking sheet with the hot pockets into the preheated oven and bake according to the instructions on the biscuit can or until the hot pockets are golden brown and the cheese is melted and bubbly.