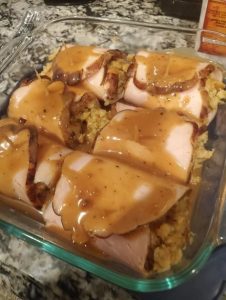 Turkey filled with stovetop stuffing. Mashed potatoes and green bean casserole as sides.
Ingredients
6 medium thick slices of Turkey, approximately 4 to 6 ounces. You could use the deli-style, I prefer thicker
1 box Turkey stuffing mix, made according to directions
2 pkg Turkey Gravy mix, made according to directions
Instructions
Lightly spray a casserole dish with nonstick spray
Prepare the stuffing mix according to package directions and set to the side
Make the Turkey gravy according to the package directions
Set out each of Turkey in front of you on the counter
Place a large spoonful of stuffing mix in the center of each Turkey slice
Fold the Turkey slice over, first one side and then the other.
Using a toothpick, insert the toothpick into the turkey slice at an angle, into the stuffing. The angle will hold the roll together.
Place each of the rolls into the prepared casserole dish and bake for 20 to 30 minutes to heat through.
Remove from the oven and using a ladle, spoon a spoon of gravy over each of the Turkey rolls.
Return to the oven for another five minutes