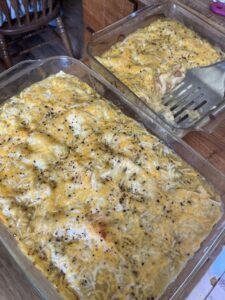 Super cheap and easy!
Mix 1 can of cream of chicken soup, 1/2 cup sour cream, 1/2 cup green enchilada sauce, 2 cans of chicken, (or whatever chicken you want). Stir that up.
Poor some enchilada sauce on bottom of pan, spread out corn or flour tortillas in a layer, put mixture on tortillas, top with some pinto beans, pour a layer of green enchilada sauce. Repeat that 1-2 times. Top with some shredded cheese!
Bake at 350 for 30 minutes

So good! I made enough for my four boys and I to have for lunch today, and the big pan will be for dinner!
Creamy Chicken Enchilada Casserole
Ingredients:
1 can (10.5 oz) cream of chicken soup
1/2 cup sour cream
1/2 cup green enchilada sauce
2 cans (12.5 oz each) cooked and shredded chicken (or 3-4 cups of cooked chicken, shredded)
10-12 corn or flour tortillas
1 can (15 oz) pinto beans, drained and rinsed
1 1/2 cups shredded cheese (cheddar, Monterey Jack, or Mexican blend)
Salt and pepper, to taste
Chopped fresh cilantro and sliced green onions for garnish (optional)
Instructions:
Preheat the Oven: Preheat your oven to 350°F (175°C).
Prepare the Filling: In a mixing bowl, combine the cream of chicken soup, sour cream, green enchilada sauce, and shredded chicken. Mix well to combine. Season with salt and pepper to taste. Set aside.
Layer the Casserole:

Spread a thin layer of green enchilada sauce on the bottom of a 9×13-inch baking dish.
Place a layer of tortillas over the sauce, overlapping them slightly to cover the bottom of the dish.
Spread half of the chicken mixture over the tortillas.
Sprinkle half of the drained pinto beans over the chicken mixture.
Pour a layer of green enchilada sauce over the beans.
Repeat the layers: tortillas, remaining chicken mixture, remaining pinto beans, and more green enchilada sauce.

Top and Bake:

Finish by placing a final layer of tortillas over the top.
Pour any remaining green enchilada sauce over the top layer of tortillas, making sure they are well-covered.
Sprinkle the shredded cheese evenly over the casserole.

Bake: Place the casserole in the preheated oven and bake for 30 minutes, or until the cheese is melted and bubbly, and the casserole is heated through.
Serve: Remove the casserole from the oven and let it cool slightly before serving. Garnish with chopped cilantro and sliced green onions if desired. Slice, serve, and enjoy your delicious creamy chicken enchilada casserole!
This recipe serves approximately 6-8 people and can be served with a side of Mexican rice, guacamole, or a refreshing salad for a complete meal. Enjoy!
Q&A
Q1: Can I use leftover rotisserie chicken for this recipe? A1: Yes, you can definitely use leftover rotisserie chicken. Shred the chicken and use it as a substitute for canned chicken in the recipe.
Q2: Can I make this casserole ahead of time? A2: Yes, you can assemble the casserole ahead of time and refrigerate it, covered, for up to 24 hours before baking. When you're ready to bake, remove it from the refrigerator, let it come to room temperature for about 20-30 minutes, then bake as directed.
Q3: Can I freeze this casserole? A3: Yes, you can freeze this casserole before baking. Prepare the casserole as instructed but stop before baking. Cover it tightly with plastic wrap and aluminum foil, then freeze for up to 2-3 months. When ready to bake, thaw it in the refrigerator overnight and bake as directed in the recipe.
Q4: Can I use different types of beans in this recipe? A4: Absolutely! You can use black beans, kidney beans, or any other beans you prefer instead of pinto beans.
Q5: What can I serve as sides with this casserole? A5: This casserole pairs well with Mexican rice, a fresh green salad, guacamole, or even a simple coleslaw. You can also serve it with tortilla chips and salsa for a complete Mexican-inspired meal.
Q6: Can I make this casserole spicy? A6: Yes, you can add diced green chilies, jalapeños, or a pinch of cayenne pepper to the chicken mixture or enchilada sauce to add some heat to the casserole. Adjust the spice level according to your preference.
Q7: Can I substitute the sour cream with Greek yogurt? A7: Yes, you can substitute sour cream with Greek yogurt if you prefer a healthier alternative. It will still add creaminess to the dish.