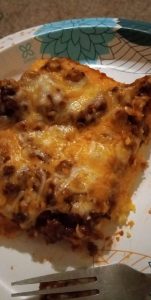 Sloppy Joe cornbread casserole
Perfect gathering recipe
Ingredients:
1 pkg ground beef
1 can manwhich (I used original)
1 can corn
1 pkg jiffy corn bread
1 egg & milk for the cornbread mixture
Shredded cheese

What to do;
Preheat oven to 400
Mix cornbread as package says. Add in canned corn, drained, and cheese (I eyeball them both according to my pan size) and mix to batter
Bake cornbread for 10 minutes.
Brown hamburger, drain and add can of manwhich.
Put meat mixture on top of cornbread, cover with cheese, and bake for another 10 minutes to let the cornbread finish baking.
This is one of my favorite casseroles to make, and I love it so much!