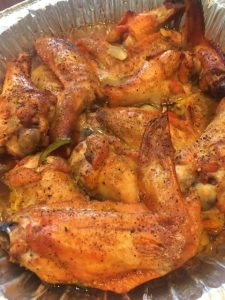 Ingredients

3 pounds of turkey wings
2 tablespoons avocado oil or vegetable oil
1 tablespoon salt
2 tablespoons paprika
2 tablespoons dried oregano
2 tablespoons dried basil
1 tablespoon garlic powder
1 tablespoon onion powder
2 cups chicken or turkey broth

Instructions
Preheat oven to 350° Fahrenheit.
Pat turkey wings dry with a paper towel, then drizzle with avocado oil.
Mix together the salt, paprika, dried oregano, dried basil, garlic powder, and onion powder in a small bowl then sprinkle evenly over the turkey wings.
Place wings on a baking dish and pour chicken or turkey broth over the top. Cover dish with foil and bake for 1 hour 30 minutes covered, then 15 minutes uncovered.