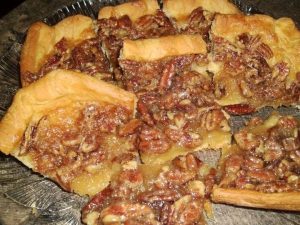 *Ingredients
° ⅓ cup white sugar
° 3 tablespoons cornstarch
° 1 ½ cups of milk
° 1 bar (4 ounces) German sweet chocolate, chopped
° 1 tablespoon of butter
° 2 egg yolks, beaten
° 1 teaspoon vanilla extract
° 1 pie crust (9 inches), baked
° 1 egg
° 1 (5-ounce) can of evaporated milk
° ½ cup white sugar
° ¼ cup butter
° 1 ⅓ cup crumbled coconut
° ½ cup chopped pecans
*Step by step
In a medium saucepan, combine the 1/3 cup sugar and cornstarch. Stir in milk, chocolate, and 1 tablespoon of butter or margarine. Cook and stir until thickened and bubbling. Lower the temperature; cook and stir for 2 minutes more.
Gradually stir in about 1 cup of the egg yolk mixture. Return mixture to saucepan; bring to a boil. Cook and stir for 2 more minutes. Stir in vanilla.
Turn the hot pie filling into the cooked pie shell.
In another saucepan, combine the beaten egg, evaporated milk, 1/2 cup sugar, and 1/4 cup butter or margarine. Cook and stir over medium heat until the mixture thickens and bubbles. Stir in coconut and pecans.
Spread the pecan mixture evenly over the chocolate filling. Cool pie on a wire rack; cool well.