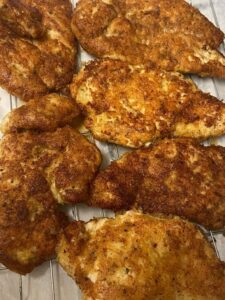 Indulge in the exquisite flavors of our Parmesan Crusted Chicken—a delightful dish that elevates the humble chicken breast to a level of culinary perfection. Whether you're hosting a dinner party or craving a simple yet elegant meal, this recipe is designed to delight your taste buds. The combination of crispy panko and savory Parmesan creates a golden crust that locks in the juiciness of the chicken. Let's dive into the details and discover the simple art of crafting this delectable dish.
Ingredients:
For the Parmesan Crusted Chicken:
Boneless, Skinless Chicken Breasts (4): Choose high-quality chicken breasts for a tender and juicy result.
All-Purpose Flour (1/2 cup): Provides a light coating for the chicken.
Eggs (2, beaten): Acts as a binding agent for the panko and Parmesan coating.
Panko Bread Crumbs (1 cup): Adds a delightful crunch to the chicken crust.
Grated Parmesan Cheese (1/2 cup): Infuses a rich, nutty flavor into the coating.
Salt (1/4 teaspoon): Enhances the overall seasoning.
Black Pepper (1/4 teaspoon): Adds a hint of warmth to the crust.
Olive Oil (2 tablespoons): Used for pan-searing the chicken.
Instructions:
Preheat and Prepare:

Preheat your oven to 400°F (200°C).
Line a baking sheet with parchment paper for easy cleanup.

Coating Process:

Place all-purpose flour in a shallow dish for the initial coating.
In a separate shallow dish, beat the eggs.
In a third shallow dish, combine panko bread crumbs, grated Parmesan cheese, salt, and black pepper.

Coat the Chicken:

Dredge each chicken breast in the flour, ensuring an even coating.
Dip the floured chicken in the beaten eggs.
Finally, coat the chicken in the panko mixture, making sure to cover all sides evenly.

Pan-Sear the Chicken:

Heat olive oil in a large skillet over medium-high heat.
Add the coated chicken breasts and cook for 2-3 minutes on each side, achieving a golden brown crust.

Bake to Perfection:

Transfer the pan-seared chicken to the prepared baking sheet.
Bake for 8-10 minutes or until the internal temperature reaches 165°F (74°C), ensuring a juicy and fully cooked result.

Serve and Enjoy:

Serve the Parmesan Crusted Chicken hot, paired with your favorite sides for a well-rounded meal.
Helpful Tips:
Even Coating: Ensure each step of coating—flour, egg, and panko mixture—is thorough for a consistent crust.
Temperature Check: Use a meat thermometer to ensure the chicken reaches 165°F (74°C) for safe consumption.
Panko Crunch: Press the panko mixture onto the chicken slightly to enhance its crispiness.
Creative Pairings: Serve with a side of lemon wedges or a light salad for a refreshing contrast.
Embark on a culinary adventure with our Parmesan Crusted Chicken, where simplicity meets sophistication. Enjoy the irresistible combination of crispy texture and savory goodness in every bite!