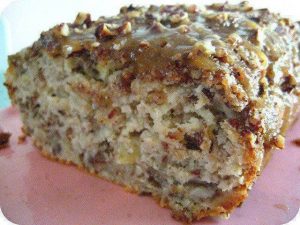 INGREDIENTS
For the praline sauce:
1 cup sour cream
1 cup brown sugar
2 eggs
2 tsp vanilla
2 cups flour
2 tsp baking powder
1/2 tsp baking soda
1/2 tsp salt
STEP 1
Preheat oven 350 degrees. Lightly grease a 9 x 5 x 3-inch loaf pan. Put aside. (I used a stoneware loaf pan for perfect baking)
Using an electric mixer, beat together sour cream, sugar, eggs, and vanilla on low speed for a few minutes until well blended. Stop the mixer then add the flour, leavening agents, and salt. Continue beating over low heat until well blended.
Stir the apples and half of the walnuts into the batter. Transferring dough to greased loaf pan.
Sprinkle the remaining nuts on top, then lightly press them into the batter. Bake for about 60 minutes or until a toothpick inserted in the center comes out clean.
Cool in the loaf pan for about 20-30 minutes, then transfer to a wire rack to cool completely. To keep it from getting too dark, I suggest using a light-colored loaf pan.
For the praline sauce:
In a small saucepan, add the butter and brown sugar. Over medium heat, bring to a boil. Reduce the heat then simmer lightly for about a minute, stirring constantly, until the sauce thick. Remove from the heat and pour over the bread. Cool completely