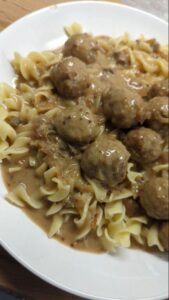 Ingredients:
1 can (10.5 oz) cream of mushroom soup
1 cup beef broth
1 tablespoon grainy Dijon mustard
1 packet dry onion soup mix
1 can (10.5 oz) Campbell's onion soup
1 box (about 24 oz) frozen Swedish meatballs
1/2 cup sour cream
Salt and pepper, to taste
Fresh parsley, chopped (for garnish)
Cooked egg noodles, for serving
Instructions:
Prepare the Crockpot: In a medium-sized bowl, whisk together the cream of mushroom soup, beef broth, grainy Dijon mustard, dry onion soup mix, and Campbell's onion soup.
Add Meatballs to the Crockpot: Place the frozen Swedish meatballs in the crockpot.
Pour the Sauce Over Meatballs: Pour the soup mixture over the meatballs, ensuring they are well coated.
Crockpot Cooking: Cover the crockpot and cook on high for 3 hours. This allows the flavors to meld together and the meatballs to become tender.
Add Sour Cream: After 3 hours of cooking, gently stir in the sour cream into the meatball mixture. This will add a creamy richness to the stroganoff.
Season and Serve: Taste the sauce and adjust the seasoning with salt and pepper if needed. Stir well to combine.
Serve Over Egg Noodles: Prepare the egg noodles according to the package instructions. Serve the creamy meatballs and sauce over the cooked egg noodles.
Garnish and Enjoy: Garnish the dish with freshly chopped parsley for a burst of color and freshness. Serve hot and enjoy your easy and comforting crockpot stroganoff with meatballs!
This simple crockpot stroganoff recipe is not only easy to make but also incredibly flavorful. It's a perfect meal for busy days when you want a hearty and satisfying dinner without spending too much time in the kitchen. Enjoy your delicious homemade stroganoff!