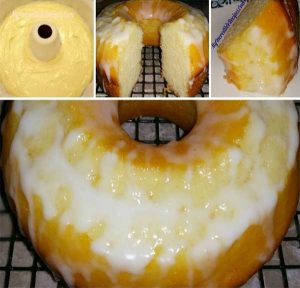 Lemon 7 UP Pound Cake Recipe

CAKE:
3 sticks (1 1/2 cups) butter
3 cups sugar
5 eggs
3 cups all-purpose flour
2 tbsp. lemon extract
3/4 cup 7-Up
Cream sugar and butter, beat until fluffy. Add eggs one at a time and beat well. Add flour, beat in lemon extract and 7-Up. Grease and flour Bundt pan well.
Bake at 350°F for one hour and fifteen minutes or until done.

ICING:
3 cups confectioners' sugar
4 tbsp. butter
1 tsp. lemon extract
Mix and frost