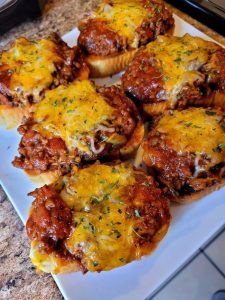 1 pound lean ground beef
2 cups spaghetti sauce more or less, depending on your preference
8 slices frozen garlic toast
1 cup mozzarella cheese shredded
Fresh parsley chopped
INSTRUCTIONS
Preheat the oven to the cooking temperature indicated on the box of garlic toast.
Crumble the ground beef into a skillet and cook over medium-high heat until completely browned. Drain excess fat, then stir in spaghetti sauce. Simmer meat sauce for 7-10 min, stirring occasionally.
While the meat sauce simmers, cook the garlic toast according to the package directions until browned on both sides.
Pour meat sauce over garlic toast, then top with mozzarella cheese. Serve hot.
Enjoy!