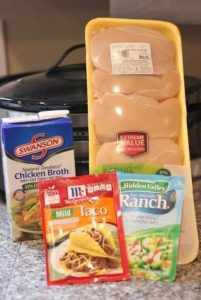 3-4 chicken breasts
1 packet taco seasoning
1 packet Ranch seasoning mix
2 cups chicken broth
plus
shredded lettuce
pico de gallo or salsa
sour cream
taco shells
Directions:
Put chicken, taco seasoning, ranch seasoning, and chicken broth in Crock Pot. Cook on low for 4-6 hours. Shred chicken with fork and let it soak up the broth. Serve in taco shells topped with lettuce, tomato/salsa, and sour cream.