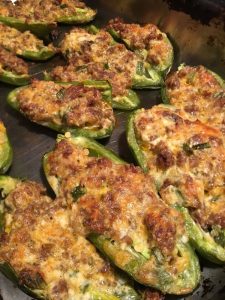 The wonderful thing about chicken stuffed jalapenos is that no matter how you feel when you eat them, they instantly turn excellent. This meal is everyone's favorite supper option because everyone readily agrees to it. Everyone wants to try this meal mostly because of its flavor.
Ingredients
12 Jalapeno peppers cut in half lengthwise and deseeded
4 oz. Cream cheese softened
1 C. Cheddar cheese shredded
2 Tbsp. Salsa
1 ½ tsp. Cumin
¼ tsp. Salt
1 C. Shredded chicken
1 ½ tsp. Chili powder
Instructions
Preheat the oven to 400 degrees.
Add all of the ingredients except for the jalapenos to a mixing bowl, and stir to combine well.
Stuff the jalapeno halves with the filling mixture and place on a parchment-lined baking sheet.
Bake for 15-20 minutes and serve.