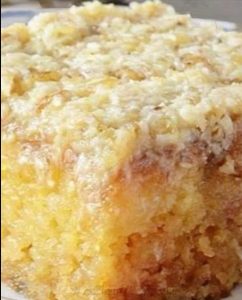 *Ingredients:
°1½ cups white sugar
°2 eggs
°2 cups of fruit cocktail
°2 teaspoons baking soda
°2 cups all-purpose flour
°¼ cup packed brown sugar
°1 cup chopped walnuts
*Step by step
Butter and flour a 9 x 13-inch cake pan. Preheat the oven to 325 degrees F (165 degrees C).
Combine sugar, eggs, fruit cocktail, soda, and flour. Pour the batter into the prepared pan.
Mix the brown sugar and walnuts together and sprinkle the mixture over the dough.
Bake for 40 minutes, or until cooked through.