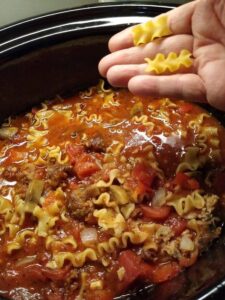 Lasagne Soup tonight! Wonderful meal on a cold rainy night. I use these little noodles that look like mini-lasagne, called mafalda. I only use 6 oz. of pasta and we think it's enough. Add some ricotta, parm & mozzarella, and a hunk of garlic bread. Yum!
Sauce
1lb Ground Beef
1lb Italian Sausage
28oz Can Crushed Tomatoes
15oz Can Tomato Sauce
6oz Can Tomato Paste
¼ Cup Fresh Basil
¼ Cup Fresh Parsley
Lasagna Soup with Mafalda Pasta
Ingredients:
1 lb (450g) Ground Beef
1 lb (450g) Italian Sausage, casings removed
1 can (28 oz / 794g) Crushed Tomatoes
1 can (15 oz / 425g) Tomato Sauce
1 can (6 oz / 170g) Tomato Paste
1/4 cup Fresh Basil, chopped
1/4 cup Fresh Parsley, chopped
6 oz (170g) Mafalda Pasta (or any mini lasagna noodles)
1 cup Ricotta Cheese
1/2 cup Parmesan Cheese, grated
1 cup Mozzarella Cheese, shredded
Salt and Pepper, to taste
Olive Oil, for cooking
Garlic Bread, for serving
Instructions:
1. Prepare the Soup:
In a large pot, heat a bit of olive oil over medium heat. Add the ground beef and Italian sausage. Cook, breaking the meat into small pieces with a spoon, until browned and cooked through.
2. Add Tomatoes and Herbs:
Stir in the crushed tomatoes, tomato sauce, and tomato paste. Mix well. Add fresh basil and parsley. Season with salt and pepper to taste. Simmer the sauce over low heat, allowing the flavors to meld, for at least 20-30 minutes.
3. Cook the Mafalda Pasta:
While the sauce is simmering, cook the mafalda pasta in a separate pot according to the package instructions until al dente. Drain and set aside.
4. Assemble the Soup:
Add the cooked mafalda pasta to the simmering soup. Stir well to combine. Let the soup simmer for an additional 5-10 minutes, allowing the pasta to absorb some of the flavors.
5. Prepare the Cheese Mixture:
In a small bowl, combine the ricotta cheese and half of the grated Parmesan cheese. Mix well.
6. Serve the Soup:
Ladle the hot lasagna soup into bowls. Top each serving with a dollop of the ricotta mixture. Sprinkle with shredded mozzarella cheese and the remaining Parmesan cheese.
7. Serve with Garlic Bread:
Serve the lasagna soup hot, accompanied by warm garlic bread on the side. Enjoy your delicious and comforting meal on a cold rainy night!
1. What is Lasagna Soup with Mafalda Pasta?
Lasagna Soup with Mafalda Pasta is a delicious and hearty Italian soup inspired by the flavors of traditional lasagna. It typically includes ingredients like ground meat, tomatoes, lasagna noodles broken into smaller pieces (often replaced with Mafalda pasta for ease), cheese, and various seasonings.
2. Can I use other types of pasta in Lasagna Soup?
Yes, you can! While Mafalda pasta is commonly used in Lasagna Soup, you can substitute it with other short pasta shapes like rotini, penne, or even broken lasagna noodles if you prefer a more traditional texture.
3. What kind of cheese is best for Lasagna Soup?
A combination of shredded mozzarella and grated Parmesan cheese works well for Lasagna Soup. These cheeses add a creamy texture and enhance the overall flavor. You can also add a dollop of ricotta cheese on top of each serving for extra richness.
4. Can I make Lasagna Soup vegetarian?
Absolutely! You can make a vegetarian version of Lasagna Soup by omitting the meat and using vegetable broth or water as the base. Add a variety of vegetables like bell peppers, zucchini, mushrooms, and spinach to create a hearty and nutritious vegetarian lasagna soup.
5. How do I store leftover Lasagna Soup?
Allow the soup to cool to room temperature and store it in an airtight container in the refrigerator. Consume the leftovers within 3-4 days. If the soup thickens upon reheating, you can add a bit of water or broth to adjust the consistency.
6. Can I freeze Lasagna Soup?
Yes, Lasagna Soup can be frozen for later use. However, pasta tends to absorb liquid and can become mushy upon thawing and reheating. To prevent this, undercook the pasta slightly if you intend to freeze the soup. Let the soup cool completely, then transfer it to a freezer-safe container. It can be stored in the freezer for up to 2-3 months.
7. How do I reheat Lasagna Soup?
Reheat Lasagna Soup gently over low to medium heat on the stovetop. If the soup has thickened, you can add a bit of water or broth to thin it out to your desired consistency. Avoid boiling the soup vigorously, as it can cause the pasta to become overly soft.
8. What can I serve with Lasagna Soup?
Lasagna Soup is a complete meal on its own, but you can serve it with a side salad, garlic bread, or a crusty baguette for a heartier meal. A simple green salad with a light vinaigrette complements the richness of the soup well.
9. Can I make Lasagna Soup ahead of time?
Yes, you can prepare the soup ahead of time and refrigerate it for up to a day before serving. In fact, many people find that the flavors of Lasagna Soup improve when it's allowed to sit for a few hours or overnight as the ingredients meld together.
10. How can I make Lasagna Soup gluten-free?
To make Lasagna Soup gluten-free, use gluten-free lasagna noodles or Mafalda pasta. There are many gluten-free pasta options available in stores that work well in this recipe. Additionally, ensure all other ingredients, especially the broth and seasonings, are gluten-free.