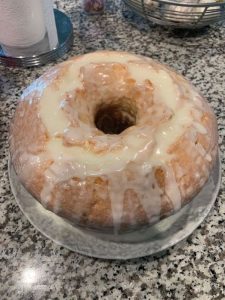 Sour Cream Peach Pound Cake – Don't Lose This Recipe

INGREDIENTS
3 cups all-purpose flour
1/2 teaspoon salt
1/2 teaspoon cinnamon
1/4 teaspoon baking soda
2 1/2 cups sugar
1 1/2 cups (3 sticks) unsalted butter, softened
6 eggs
1 cup sour cream
1 teaspoon vanilla extract
1 teaspoon almond extract
2 cups fresh peaches, peeled, pitted, diced
Glaze:
1 1/2 cup powdered sugar
2 tablespoons milk, plus more, as needed
1/2 teaspoon almond extract, optional
PREPARATION
Preheat oven to 325º F and lightly grease a standard bundt pan with butter or non-stick spray.
In a medium bowl, whisk together flour, salt, cinnamon and baking soda until thoroughly mixed together.
In a large bowl or mixer, cream butter for 1-2 minutes, until fluffy, then add sugar and cream together for another 3-4 minutes.
Working one at a time, beat in eggs until incorporated, then mix in vanilla and almond extracts.
Beginning and ending with dry ingredients, alternate between adding flour mixture and sour cream to batter, beating until just combined, then fold in diced peaches.
Pour batter into greased bundt pan (it's okay if it's thick), being sure to only fill then spread into an even layer.
Place in oven and bake for 80-100 minutes, or until toothpick inserted in center comes out mostly clean.
Remove from oven and let cool.
Make glaze by whisking almond extract and milk (one tablespoon at a time) into powdered sugar. Pour over cooled cake and let set.