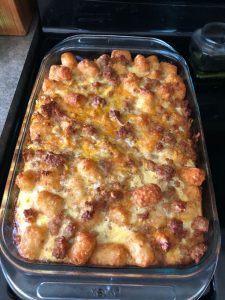 8 eggs
1 pound pork sausage jimmy dean
1 1/2 cups whole milk or heavy cream
1 package of frozen tater tots approximately 24 oz
2 cups cheddar cheese
1 1/2 tsp salt
1 tsp black pepper
1/4 tsp garlic powder
Preheat oven to 375 and spray 9 x 13 pan with nonstick cooking spray.
Brown the meat – Medium heat in a skillet, breaking sausage into small pieces. Drain any excess grease and set cooked meat aside.
Whisk together 8 eggs, a cup and a half of heavy cream (whole milk if you have to, but heavy cream is better), and all spices together.
Add frozen tater tots to the bottom of the dish until a full layer is formed.
On top of the tater tots, add the precooked sausage, and two cups of cheddar cheese, and finally, pour on the whisked egg mixture.
Cover the casserole dish with foil. (This helps the edges not cook too quickly and burn.)
Bake tater to a casserole for 40 minutes to start, remove foil from the dish, and then bake for another 15-20 until the center egg is fully cooked if necessary. Note that some ovens cook faster and check at the 40-45 minute mark for the cooked egg.
Serve hot with sour cream, tomatoes, salsa, or crunchy bacon.
NOTE: You may have to purchase a 32 oz bag of tater tots and will have some leftover