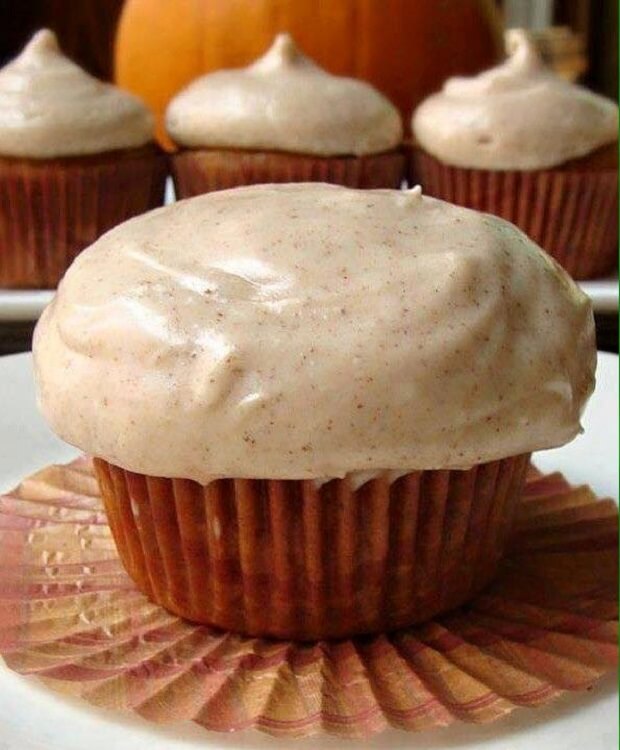 Ingredients:
Cupcakes:
1/4 Cup Butter, Softened
3/4 Cup Unsweetened Applesauce
1 Cup Granulated Sugar
3/4 Cup Brown Sugar, Packed Firmly
2 Large Eggs
3/4 Cup Fat Free Milk
1 Tablespoon Lemon Juice
1 (15 Ounce) Can Pumpkin Puree
2 1/3 Cups All Purpose Flour
1 Tablespoon Pumpkin Pie Spice
1 Teaspoon Ground Cinnamon
1 Teaspoon Baking Powder
3/4 Teaspoon Salt
1/2 Teaspoon Baking Soda
1/2 Teaspoon Ground Ginger
Frosting:
1 (8 Ounce) Package Reduced Fat Cream Cheese (Not Fat Free!)
1/4 Cup Butter, Softened
4 Cups Confectioners Sugar
1 Teaspoon Vanilla Extract
2 Teaspoon Ground Cinnamon
Instructions :
Preheat oven to 350 degrees. In a large mixing bowl, add in butter, applesauce, sugars, and eggs and beat over medium speed until combined. Add in pumpkin and continuing beating until thoroughly incorporated. In a liquid measuring cup, combine milk and lemon juice and set aside. In a medium bowl, combine remaining dry ingredients. Slowly, over medium speed, add the dry ingredients to the pumpkin mixture, alternating with the milk mixture, beating well after each addition. Line cupcakes trays with paper liners and then spray lightly with a non-stick cooking spray. Fill cupcake liners 3/4 of the way full and bake for 22 minutes or until a skewer inserted into the middle comes out clean. Remove from oven and allow to cool.
To make frosting, combine all ingredients in a medium mixing bowl and beat over medium speed until ingredients begin to combine, slowly increase speed and continue beating until a frosting is formed. Once cupcakes cool completely, frost as desired and enjoy!