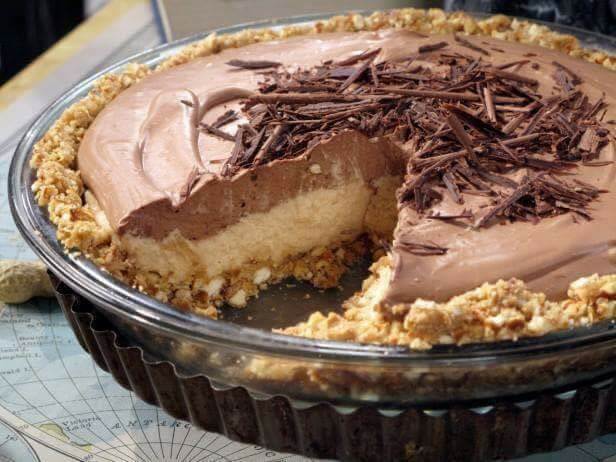 INGREDIENTS
CRUST:
1 1/4 cups salted pretzels
6 tablespoons unsalted butter, melted
1/4 cup brown sugar
FILLING:
1/2 cup cream cheese, softened
1/3 cup smooth peanut butter
1/4 cup brown sugar
1/2 cup 35-percent whipping cream, whipped
CHOCOLATE WHIPPED CREAM:
3/4 cup roughly chopped dark chocolate
2 cups 35-percent whipping cream
Chocolate shavings, optional
DIRECTIONS
For the crust: Pulse the pretzels in a food processor until finely ground. In a large bowl, combine the pretzel crumbs, butter and brown sugar. Mix with your hands. Press the mixture into the bottom and up the sides of a 9-inch pie plate. Cover and refrigerate.
For the filling: Combine the cream cheese, peanut butter and brown sugar in a medium bowl and beat with a mixer until smooth. Fold in the whipped cream. Spoon the filling into the pie shell, cover and return to the refrigerator.
For the chocolate whipped cream: Put the chocolate and whipping cream in the top of a double boiler over medium heat. Whisk until melted. Cover and refrigerate for 2 hours. Once cooled, beat the chocolate cream with a mixer until thick and spreadable (do not overmix).
Cover the pie with the chocolate whipped cream. Garnish with chocolate shavings if using. Serve the pie right away or refrigerate for another 2 hours.
Enjoy!