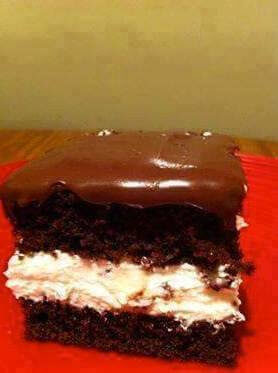 Ingredients : 
1 box chocolate cake mix
1 pkg cream cheese (softened)
3 cups confectioner sugar
1 stick margarine (softened)
1 container cool whip
1 container chocolate icing
1 TBS milk
Directions:
1 – Make cake as directed on box in a 9×13 pan. When done let cool 10 min. Then put on cooling rack , when cooled cut in half then put one half back in bottom of pan,
2 – Make the Icing. Mix cream cheese softened, 3 cups powered sugar, 1 stick margarine softened, together with mixer. Then add the cool whip.
3 – Spread this on cake layer in pan, then put other layer on top
4 – Now take 1 can of chocolate icing add 2 tbsp of milk stir up well ,spread on cake. Keep in fridge