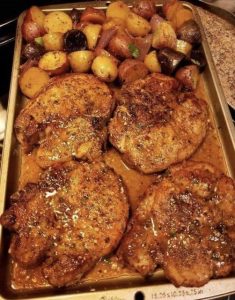 6 boneless thick-cut loin pork chops
2 1/2 tablespoons paprika
1 tablespoon salt
1 tablespoon garlic powder
1 tablespoon black pepper
2 tablespoon onion powder
1 tablespoon dried oregano
1 tablespoon dried thyme
1 tablespoon adobo
1 large onion, sliced
2 cloves garlic, minced
4 tbs butter
4 cups potatoes, sliced very thin (mandoline is recommended)
1 can (10.75 oz) cream of mushroom soup
Instructions
Preheat oven to 350F
Take your pork chops and season them with salt, pepper & all other seasonings until evenly coated. (you can mix all seasoning ingredients together in a small bowl prior to coating chops) , set aside.
Butter a 2-quart baking dish
Heat a large skillet over medium-high heat & melt 2 tbs of the butter in the pan, add in your minced garlic, then add in your seasoned pork chops.
Cook them until browned on both sides, remove and set aside.
Add the remaining 2 tbs butter to the skillet and add the chopped onion, cook until soft.
Add the condensed soup to the cooked onions and gradually stir in the milk, set aside.
Slice potatoes and place in an even layer in the prepared baking dish.
Place cooked pork chops on top of potatoes, then pour the soup mixture over the chops.
Make sure everything is even in the baking dish.
Cover and bake at 350F for 30 minutes.
Remove the cover and bake for an additional 40 minutes.
Sprinkle lightly with parsley if desired.