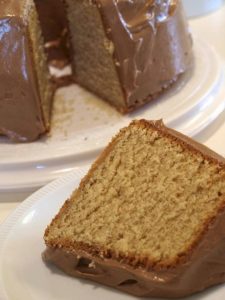 Ingredients:
1 cup butter, softened
2 cups sugar
1 cup light brown sugar, lightly packed
1/2 cup peanut butter, creamy or crunchy
5 eggs, room temperature
1 tbsp vanilla
3 cups flour, all-purpose
1/2 tsp baking powder
1/2 tsp salt
1/4 tsp baking soda
1 cup milk, whole or low fat
Instructions
Preheat the oven to 325°. Prepare a large tube or bundt pan by greasing and flouring it. Set pan aside. Update: A couple of people have commented that their cake overflowed while baking. This recipe makes a large cake and I used a large tube pan. Only fill your bundt/tube pan up about 3/4 full. Don't let the extra batter go to waste though, make some muffins or a small loaf.
In a large bowl, mix flour, baking powder, salt, and baking soda. Set aside.
On medium speed, cream together butter and sugar until fluffy. Add the brown sugar and peanut butter and continue mixing. Add the eggs, one at a time. Wait until one egg is fully mixed in before adding the next one. Add vanilla.
Add the dry ingredients and the milk to the creamed mixture. Alternate between the flour mixture and the milk, using about a fourth of the ingredient at a time. Always begin and end with the dry ingredients. Mix completely.
Pour the batter into the prepared pan and bake for 60 – 70 minutes. Start checking to see if it is done at 60 minutes using a wooden toothpick. Continue checking every 5 minutes to make sure it does not overcook. When the toothpick comes out clean, the cake is done.
Remove from the oven and let it sit for 15 minutes. Then remove it from the cake pan and cool completely on a wire rack.
Dust with powdered sugar or frost as desired.
Note that this recipe makes a large cake. For smaller pound cakes, use loaf pans or even mini bundt cake molds. Adjust the cooking time accordingly since they will not need as much time to bake