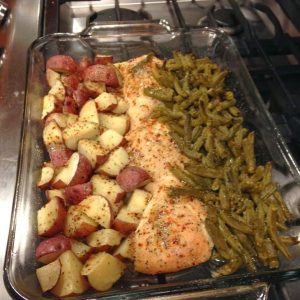 Italian chicken, green beans, and potatoes
– 2 cups green beans
– 2-3 medium russet potatoes
– 2-3 large chicken breasts (thawed)
– 1 package Italian dressing mix
– 8 tbsp butter
– salt and pepper
– preheat oven to 350
– wash green beans and potatoes
– peel potatoes and cut them into small cubes
– slice green beans into bite-size pieces
– line 1 side of the 9×13 baking dish with green beans and the other side with potatoes.
– place chicken between green beans and potatoes (you can slice the chicken in half if you would like at this time as well)
– cut butter into 1 tbsp squares and place evenly over the green beans, potatoes, and chicken.
– sprinkle with salt, pepper, and Italian seasoning.
– cover and bake for 1 hour.