Chicken stuffed with potatoes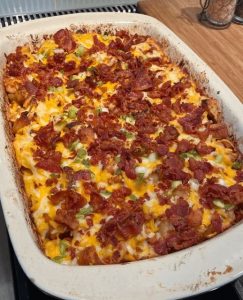 Ingredients :
°1 pound (1″) shredded chicken breast
°6-8 medium-sized peels on red potatoes, cut into halves
°1/3 cup olive oil
°1 1/2 teaspoon salt
°1 teaspoon black pepper
°1 tablespoon paprika
°2 tablespoons garlic powder
°2 tablespoons hot sauce (more if you like it hot)
+Topping:
°2 cups Eid cheese mix
°1 c shredded bacon
°1 cup green onion cut into cubes
*How to make:
1. Preheat oven to 400 degrees. Spraying 9X13 baking dish with cook spray.
2. In a large bowl, mix olive oil, salt, pepper, paprika, garlic powder, and hot sauce together. Add the potato cubes and chicken, and stir until the ingredients are covered. Scoop the potatoes & chicken to the prepared baking dish.
3. Bake the potatoes and chicken for 55-60 minutes, stirring every 20 minutes, until fully cooked through and crispy and browned on the outside. While the potatoes are cooking, fry the bacon (about half a pound).
4. Once the potatoes and chicken are completely cooked, remove them from the oven. Cover the cooked potatoes with cheese, bacon, and green onions. Return the casserole to the oven and bake for 5 minutes or until the cheese has melted.
Enjoy!
IF YOU LIKE THIS RECIPE YOU MAY ALSO LIKE