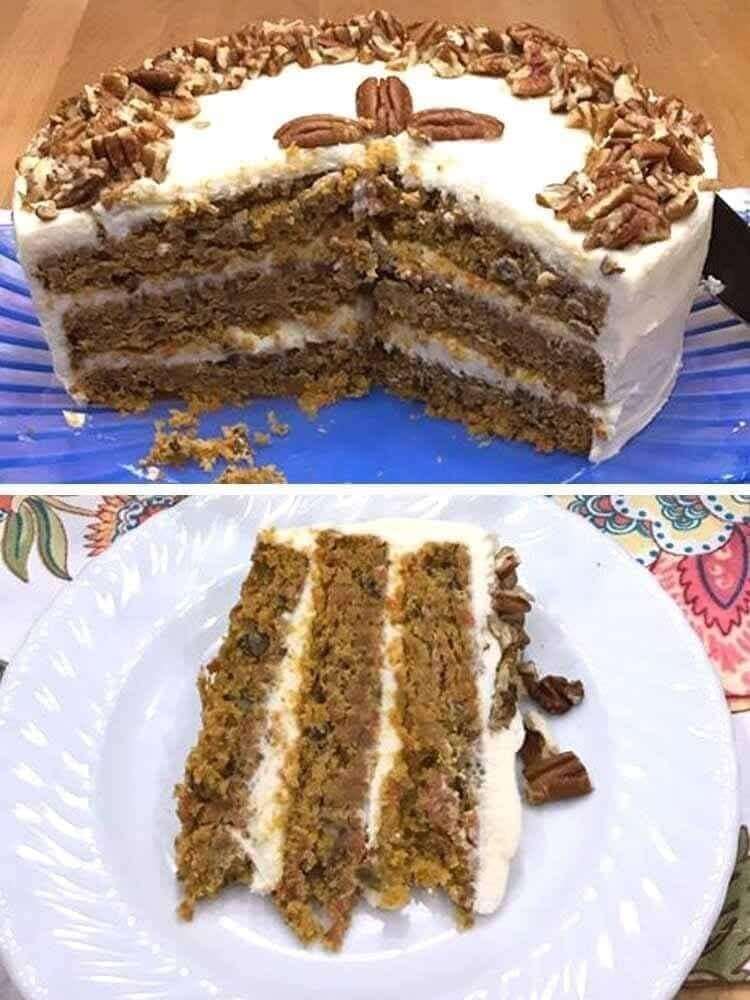 This Layered Carrot Cake Recipe is a homemade spiced cake that is moist, simple, and delicious. You can make this easy layered carrot cake for Easter or whenever you want something extra special.
This cake has real shredded carrots and a divine homemade cream cheese frosting. I can't wait for you to taste this Easter cake recipe!
Layered Carrot Cake Recipe
I always remember going to grandma's house for the holidays either Easter or Thanksgiving, and she would serve her homemade carrot cake. I grew up loving layered carrot cake and can't even tell you how many I have made over the years. Every time I bake this Easter cake recipe, I am taken right back to being a kid again.
If you grew up eating carrot cake, I'm sure you will enjoy this layered cake as much as I do.
Besides the fact that I love this cake, I also enjoy shredded carrot recipes in general. They are so delicious, and adding carrots is a fun way to include some extra nutrients. So, if you are have been looking for easy carrot recipes, I hope you enjoy this one. It's seriously one of my ultimate favorites.
Can I Make This Cake Without Making A Layered Cake
Yes, you can absolutely make this cake without making it into a layered cake. Simply use your favorite 9 by 13 pan and bake a cake as directed, and you'll end up with a sheet cake instead. It is absolutely delicious even as a sheet cake, and you can frost it just the same way you would a layered cake only you may need less frosting.
6 cups grated carrots
1 cup brown sugar
1 cup raisins
4 eggs
1 1/2 cups white sugar
1 cup vegetable oil
2 teaspoons vanilla extract
1 cup crushed pineapple, drained
3 cups all-purpose flour
1 1/2 teaspoons baking soda
1 teaspoon salt
4 teaspoons ground cinnamon
1 cup chopped walnuts
How To Make the Best Carrot Cake Ever
In a medium bowl, combine grated carrots and brown sugar. Set aside for 60 minutes, then stir in raisins.
Preheat the oven to 350 degrees F (175 degrees C). Grease and flour two 10 inch cake pans.
In a large bowl, beat eggs until light. Gradually beat in the white sugar, oil and vanilla. Stir in the pineapple. Combine the flour, baking soda, salt and cinnamon, stir into the wet mixture until absorbed. Finally stir in the carrot mixture and the walnuts. Pour evenly into the prepared pans.
Bake for 45 to 50 minutes in the preheated oven, until cake tests done with a toothpick. Cool for 10 minutes before removing it from the pan. When completely cooled, frost with cream cheese frosting.
Enjoy