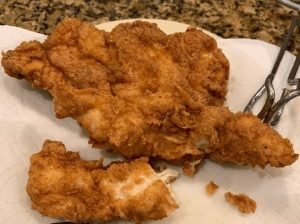 Ingredients
6 boneless, skinless chicken breasts cut into thirds
1 cup all-purpose flour
1/2 teaspoon salt
1 tablespoon seasoned salt (I use Lawry's Seasoned Salt)
3/4 teaspoon pepper
2 teaspoon paprika
1/2 stick butter (or 1/4 cup)
Directions
Put the chicken into a bowl of milk to soak for about 25 minutes. Put the salt, Season All, pepper, flour, and paprika into a zipper bag or large bowl.
Preheat the oven to 400 degrees.
Melt the butter and pour it into a 9 x 13 baking dish. Make sure the bottom of the entire dish is coated with melted butter.
Remove the chicken from the milk and shake off any excess milk, then dip (or shake) each chicken piece in the seasoning mix that's in the zipper bag or bowl. Be sure each chicken breast is well coated with the seasoning, then place it in the baking dish